On the 5th June, hundreds of Palestinians, joined by international and Israeli activists demonstrated in the village of Qaffin, in the Tulkarm region of northern Palestine, marking the beginning of the 'Summer Against Apartheid' campaign.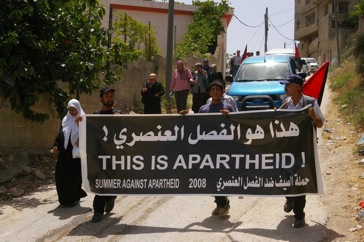 Qaffin village is situated close to the apartheid barrier and, while it has traditionally enjoyed good relations with the people of the nearby Jewish town of Metzar (in Israel proper), illegal seizures of farmland for the construction of the wall has added to tensions. A protest cam was established close to the apartheid wall. This camp will act as a center for activism and protest throughout the Summer.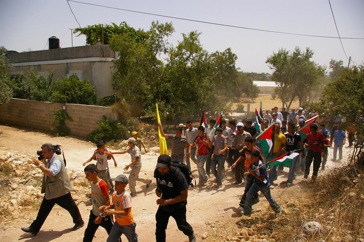 Several hundreds of townspeople, accompanied by international solidarity activists, Christian activists, Jewish sympathisers and Israeli Anarchists Against the Wall, marched from the town hall to the site of the Summer camp, set up on village land close to the apartheid barrier.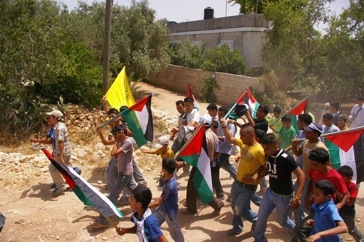 An air of celebration marked the event with people in high spirits at this opportunity to have their voices heard. Speeches were made by the governor of the district, Mr Talal Dweikat, and the town mayor, Mr Said Harrashi. An international solidarity activist asserted that internationals from the ISM and other groups would continue to support the camp throughout the summer and expressed solidarity towards the village of Qaffin and to all Palestinian grass-roots campaigns looking to secure human rights and justice. An Israeli speaker then related the story of his son's imprisonment for refusing to serve in the Israeli armed forces of occupation.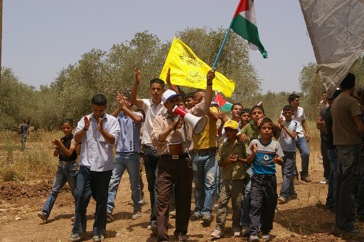 Before the meeting dispersed, tear gas cannisters were fired by Israeli troops at some village youth in the nearby field, setting fire to olive trees.
Finishing touches were then made to the protest camp that will be a meeting point for grass-roots activism in the region throughout the Summer.
International supporters will maintain a continuous presence in the camp to mark this summer's campaign against apartheid.