On June 19th a ceasefire was called into effect between Gaza and Israel. Demonstrations of solidarity with the people of Gaza and the humanitarian crisis they continue to face are planned for the weekend of June 27th.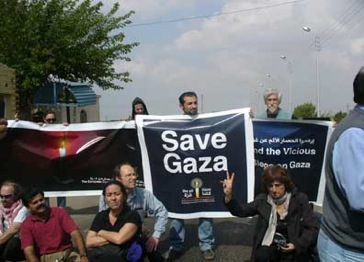 On June 27th, demonstrations will be held in Rafah City—both the Palestinian and Egyptian sides of the city—to show solidarity with the besieged people of Gaza. We call on international human rights activists, Palestinian rights organizations, and people of conscience around the world to organize parallel demonstrations on or near June 27th, alongside the demonstrations in the divided city of Rafah.
The siege was imposed by the Israeli government in June 2007 upon an economy already strangled by over a year of sanctions. In the past year, it has resulted in the repeated denial of vital medical access, severe food shortage, and strained supplies of food and electricity. It has rendered Gaza a virtual prison, and collectively punishes its residents in clear violation of international and humanitarian law.
Moreover, the European Union and the governments of Egypt, Israel, and the United States have defaulted on their obligation to enable and facilitate the flow of people through the Rafah border crossing, making us complicit with the deadly campaign waged by the government of Israel.
Please gather in your own city or town to say to your government "Not in my name!" and show your solidarity with the imprisoned people of Gaza.