By Luisa Morgantini – Vice President of the European Parliament
In Occasion of the International Day of Action to support fishermen in Gaza
"The Right to Live. The Right to Fish. End the Siege on Gaza"
Rome 16th June 2008
Today 16th June, fishermen of Gaza took the sea claiming for the "Right to live. Right to fish. End the siege on Gaza", a mobilization organized by the "End the Siege Campaign", a Palestinian and International Campaign (http://www.end-gaza-siege.ps/ ) carried out by intellectual, physicians, lawyers and representatives of the Palestinian civil society.
In occasion of the International day of action in support of fishermen in Gaza, the Italian Lega Pesca, the oldest and largest organization of 13,000 Italian cooperatives representing more than 400,000 fishermen, expressed its "solidarity with the fishermen in Gaza, regarding the very serious human, social and economic conditions in which they are illegally forced to live in."
In a press release, Italian fishermen expressed, "that the international community should take-charge of this injustice and remove all obstacles preventing the thousands of fishermen from exercise their undeniable right to work and be free."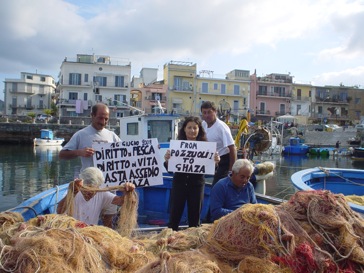 Many initiatives of solidarity with fishermen in Gaza took place in different coastal locations in Italy. In Pozzuoli, Naples, the Italian civil society asked for the end of the siege and the right to fish in Gaza.
"Civil society's demands are the salt of the earth, as they call for freedom and justice," stated Luisa Morgantini, Vice President of the European Parliament who organized the initiative in Italy, as she also demanded the immediate end of the siege.