In Chicago on June 11th, more than 50 Palestinian solidarity activists from numerous organizations gathered to oppose Caterpillar Corporations annual shareholders meeting. Caterpillar, an American company, is responsible for building and outfitting militarized bulldozers to sell to the Israeli army.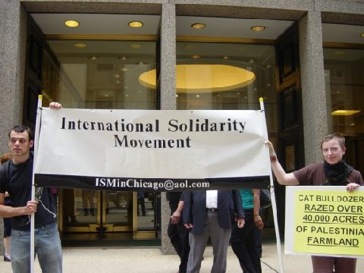 These bulldozers have been used to destroy an estimated 18,000 Palestinian homes, uproot hundreds of thousands of olive trees, and build Israel's infrastructure of apartheid, including the apartheid wall, settlements, and Israeli-only roads. Additionally, several Palestinians and American activist Rachel Corrie have been murdered by Israeli Occupation Forces using Caterpillar's equipment.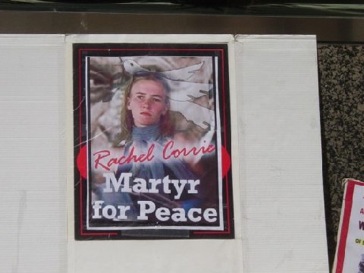 For the past five years, Palestinian solidarity organizations in the United States have waged a campaign against Caterpillar, demanding that the company stop all sales to the Israeli military. This year, activists picketed outside the meeting at Northern Trust Bank in downtown society. Three activists with the International Solidarity Movement's Chicago chapter were able to get inside the meeting. Each of these activists separately disrupted the meeting, remembering Palestinians who have suffered as a result of Caterpillars' sales to Israel. The three following statements were given to the CEOS and shareholders alike: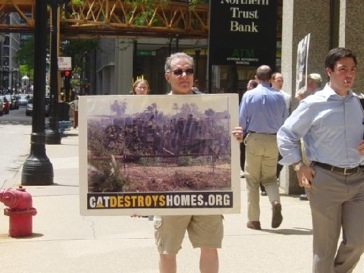 "I am Samir Nasrallah from Rafah Palestine. My home was demolished by a Caterpillar D-9 bulldozer, leaving my family homeless, and robbing us of our life savings."
"I am Ahmed Kasem, a farmer from Palestine. In 2001 the Israeli army used Caterpillar bulldozers to destroy my olive groves, the only source of income for my family. More than 200,000 olive trees have been uprooted using caterpillar bulldozers, impoverishing thousands of people."
"My name is Nabila al Shu'bi. In 2002 my family and I were murdered inside my home by a Caterpillar D9 militarized bulldozer. The attack killed 8 of my family members, including three of my children."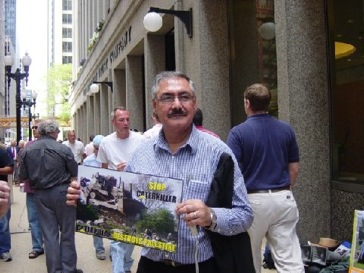 Each activist ended their statement by chanting, "take responsibility and do the right thing!" as they were quickly surrounded and ejected from the meeting by security guards. Caterpillar Corporation will continue to be targeted for its support for the occupation and apartheid in Palestine until it agrees to end sales to the Israeli military.