South Hebron Hills – At 2.30pm on Saturday, May 10th 2008, about 20 settlers from Ma'on settlement gathered near the village of At-Tuwani and proceeded to enter the village. When an Israeli army jeep arrived, settlers spoke with the soldiers and then followed the soldiers who began walking closer toward the village. The settlers yelled insults and made obscene hand gestures at gathered Palestinian residents. The soldiers allowed the settlers to reach an area just 50 meters from the first house of the village. Four armed settlers stood guard several meters behind the others.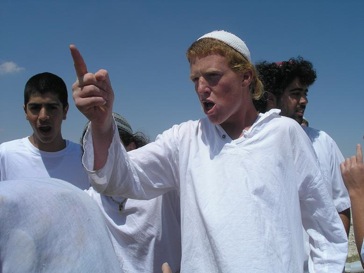 The group of settlers (many young, all wearing the white dress of Shabbot) yelled and provoked Palestinians for half an hour. One settler slapped an elderly Palestinian woman. The same settler grabbed and knocked the camera out of the hand of an international and pushed another international videotaping the events.
When Israeli police arrived, they spoke with two armed settlers and demanded the ID of a Palestinian. Israeli authorities also threatened to arrest one Palestinian.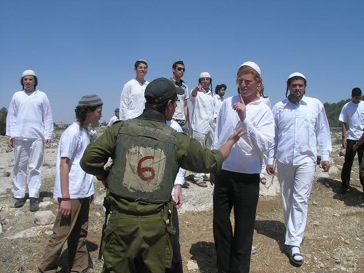 Palestinians repeatedly told the police that settlers cannot violently enter their land and threaten them.
A week ago, settlers from Ma'on settlement entered At-Tuwani with guns and assaulted Palestinians and two internationals from the Christian Peacemaker Teams and Operation Dove. No settlers have been arrested or charged in relation to these events.
For more information on CPT's work in Palestine click here