On Wednesday 14th May approximately 500 refugee school children from the city of Tulkarem, in the north-west of the West Bank, attempted to march back to their families' homes in Jaffa, near Tel-Aviv, in commemoration of the 60th anniversary of Al-Nakba (the catastrophe).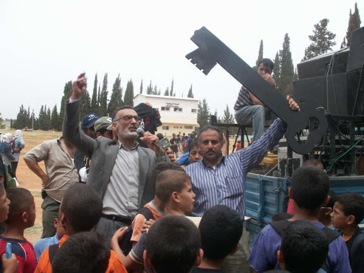 Waving United Nations flags and many wearing black t-shirts with 1948 blazoned across the back, the children drew attention to the fact that 60 years after the declaration of the state of Israel, which was enabled by the mass killings and forced evictions of up to 700 000 refugees from approximately 418 villages, Palestinians have still been denied their right to return home – as declared by the United Nations Resolution 194 article 11. Marching from the Tulkarem refugee camps through the city streets, the children chanted "We will not sell" – referring to the popular refusal to sell the right to return home.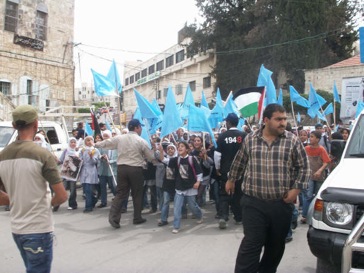 The demonstration gathered at Al Khadouri university, before attempting to march west towards Jaffa, where the children were quickly stopped by Israeli soldiers positioned at the illegal Israeli apartheid wall that runs through the edge of Tulkarem city. The soldiers pointed their guns at the children and threatened to shoot, forcing the children to turn back.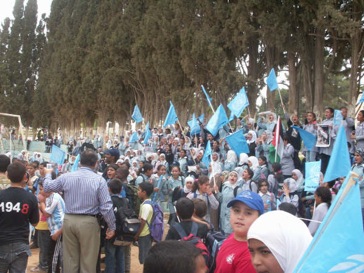 Organised by the National Nakba Committee; Committees of Tulkarem refugee camps; and the national political parties, the demonstration in Tulkarem is part of the ongoing commemorations and protests against the Israeli 60th anniversary celebrations, in light of the continued refusal to allow Palestinian refugees to return home. Currently there are approximately 4.5 million Palestinian refugees listed with the United Nations; including 56 000 in the city of Tulkarem alone.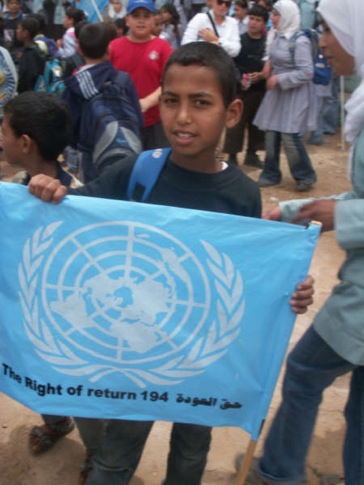 Demonstrations will continue on 15th May, with protests planned in cities throughout the West Bank, with Palestinians mourning the loss of their lands and demanding their rights to return home.