Palestinian and international activists from Ramallah, Budrus, Bil'in, Al-Khader, Um Salamona and Jenin gathered in the village of Al-Aqaba in the Jordan Valley on Saturday to express solidarity with the villagers in their effort to maintain their presence in spite of Israel's attempt to wipe their village off the face of the map.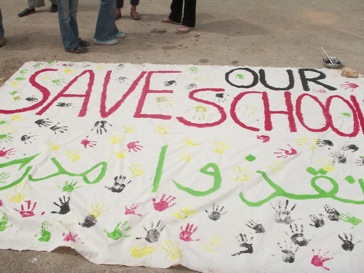 Also joining the gathering were Palestinian Minister of Tourism, Ms. Khuloud Daibis, representing the Palestinian Authority Cabinet of Ministers and the Governor of Tubas, Dr. Sami Musallem. Israeli activists were invited and attempted to join but were prevented by Israeli soldiers at the Tayasir checkpoint from entering the village.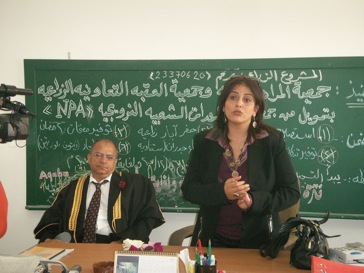 Upon arrival, activists gathered under the almond tree that serves as the office of the local village council. The head of Al-Aqaba's village council, Haj Sami Sadeq, welcomed everyone, thanked them for their solidarity, and explained that for nearly 10 years the village council has been holding all of its meetings under the almond tree because the Israeli authorities will not allow the village to build a structure to house the village council. Haj Sami also spoke to the gatherers, which, in addition to Palestinian students and activists included, Americans, Canadians, Chileans, Spaniards, Swedes, and UK nationals, about the history of the village, the years that it spent serving as training grounds for the Israeli military, the important battle that they won to remove the Israeli military base from their village, and their efforts to maintain their presence on their land. Currently there are 35 outstanding demolition orders against various structures in the village, including the local medical center, funded by the British Government, the kindergarten, funded by the American-based Rebuilding Alliance, the local mosque, and others.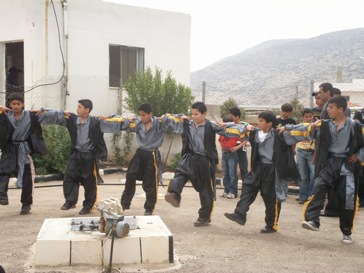 Following the briefing, children from the Jenin Freedom Theater, who also came in solidarity, put on a performance and led the crowd in traditional song and dance. Next everyone moved to the grounds of the kindergarten where activists worked with the children to create a large banner reading "Save our School" and pinwheels for peace. P.A. Minister of Tourism Khuloud Diabis and Tubas Governor Dr. Sami Musallem joined the activities and pledged that the Palestinian Authority would help the village build, in direct defiance of Israel's demolition orders. Ms. Diabis then laid the foundation for a village council building and reasserted that the P.A. would support its construction.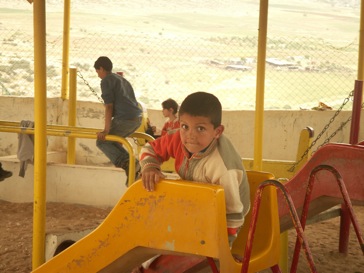 On Thursday, April 17Attorney Elia Tusya Cohen will be petitioning the Israeli High Court on behalf of the village to repeal the demolition orders. If you are in or near Jerusalem an April 17, please join us in front of the Israeli Supreme Court building at 11:00am to carry the message of the children of Al-Aqaba.
For more information:
Haj Sami Sadeq (Arabic only) – 09-257-2201; 0599-068-808
Huwaida – 0599-130-426
ISM Office – 02-297-1824
Find out how you can help save the Al-Aqaba here: http://www.rebuildingalliance.org/campaignJordanRiverValley.php