On 24th April, around forty Palestinian, international and Israeli activists occupied a settler outpost within an abandoned military base in the Ramallah region to protest against the illegal construction within Palestinian territory. After aggression from both the Israeli army and armed settlers, two activists, Adeeb Abu Rahme and Neta Golan, were violently arrested at the scene. Both were released later in the day.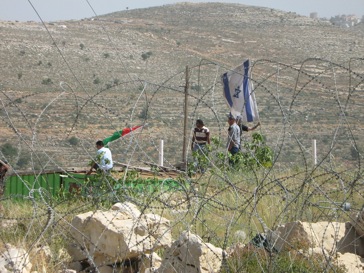 The activists used a bulldozer to remove the road block that connects Ramallah to the village of Ein Kinia before occupying the outpost. They removed the Israeli flag that was flying from the outpost and replaced it with Palestinian flags. The Israeli army then arrived at the scene, firing live ammunition and rubber bullets in the direction of the protesters, before a stand-off occurred between soldiers and the non-violent protesters. A journalist's car was hit as the protesters attempted to find cover from the army aggression.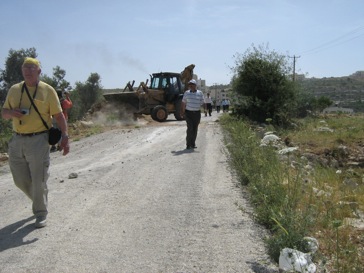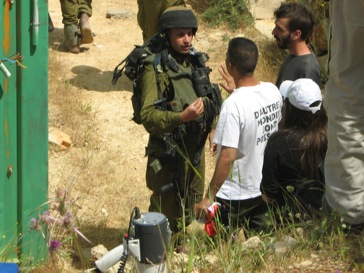 The army then declared the area a Closed Military Zone, maintaining that the outpost was in fact a synagogue, and forced the activists out of the area up onto a nearby hill, while detaining Adeeb Abu Rahme and Neta Golan. At this point the army brought in a bulldozer to put back the road block, before armed settlers quickly appeared on the scene, gathering rapidly in numbers and throwing stones towards the activists. Despite the Israeli army arresting the two activists for being within a Closed Military Zone, no action was taken against the settlers who were continually permitted to be in the area.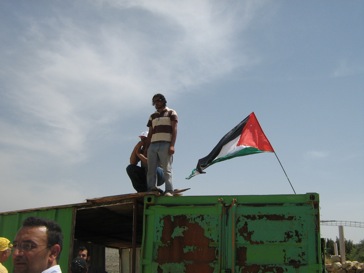 Settlers remained in the area after all the protesters were forced to leave.