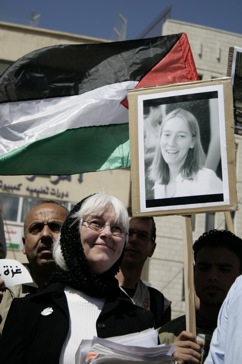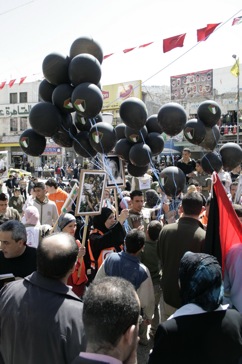 Today 200 residents of Nablus and internationals gathered to commemorate the five-year anniversary of the murder of Rachel Corrie by Israeli forces in Rafah, Gaza, as she tried to prevent a bulldozer from demolishing a family home. The demonstration also protested the ongoing attacks on Gaza by the Israeli army, and the occupation of Iraq – taking place on the fifth anniversary of the US-led invasion.
Present were bereaved parents of Rachel Corrie, Craig and Cindy Corrie, who were visiting Nablus for the first time. The Corries expressed their gratitude for the continuing remembrence of their daughter, but stressed the importance of focussing on the atrocities carried out against Palestinians everyday. Her mother stated:
"While we remember Rachel, it is important to remember the children of Palestine, because Rachel knew and Rachel taught us that it is about the people of Palestine, not about Rachel.
"We know that the people of Nablus have suffered for many many years, and have suffered many many losses that are like our loss, except they go on and on for them."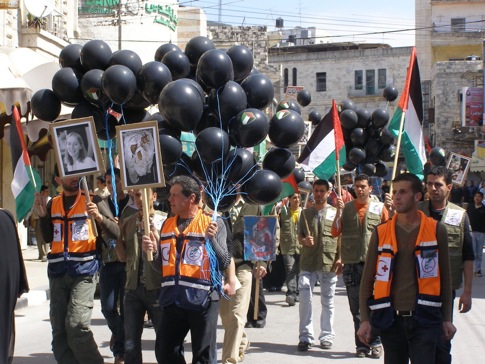 Working tirelessly on education about the plight of the Palestinian people, through lobbying efforts, public speaking and the establishment of The Rachel Corrie Foundation, this is the Corries' third visit to Palestine. Of their work, Rachel's father, Craig Corrie said:
"There's nothing more we can do for Rachel, but we can all work so that these children, our children – for they are all our children – can have a life that we would all want our children to have. And we will work so that bulldozers do not destroy the garden walls of a family's garden, but that they destroy the walls that imprison us here, and people everywhere."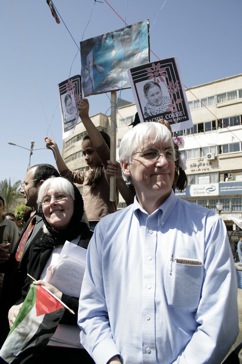 The protesters carried 122 black balloons, to commemorate the 121 Palestinians killed in Gaza during the Israeli army Operation Hot Winter, as well as one for Rachel Corrie. The also carried Palestinian flags and pictures of those killed in Gaza.
Representatives from many organisations in Nablus addressed the crowd, including the Women's Committee; Tanweer Centre for Cultural Enlightenment; and Centre for Global Consciousness; as well as Palestinians whose family members had been murdered by Israeli forces. Many spoke of the links between the occupation of Palestine and the occupation of Iraq, demanding freedom and justice for both.
These connections were also expressed by Rachel Corrie, which she wrote to her parents from Palestine before she died, which her mother Cindy shared with the crowd,
"I think freedom for palestine could be an incredible source of hope for people struggling all over the world."