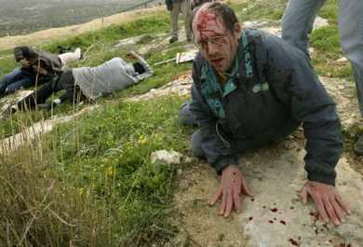 By Meron Rappaport
(Article from Ha'aretz, pictures from Reuters (Eliana Aponte & Yannis Behrakis))
More than 20 activists were wounded Friday as Israel Defense Forces troops fired rubber bullets and tear gas grenades at protesters marking three years of struggle against the West Bank separation fence in the West Bank town of Bil'in.
Among the wounded was an American activist.
The IDF spokesman's office said that one soldier was hurt when a rock was hurled toward him, but that the IDF has no knowledge of wounded activists.
More than 1,000 people attended the milestone demonstration Friday, though the event is a weekly occurrence with several dozen activists gathering in Bil'in every Friday over the last three years to protest the separation barrier that imposes hardship on Palestinians living in the West Bank.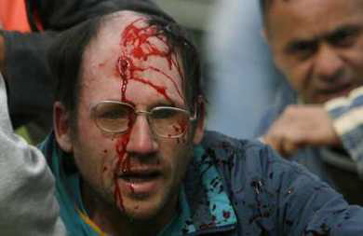 Jonathan Pollack, one of the organizers of the demonstration, said that Friday's protest came six months after the High Court of Justice ruled on changes in the route of the barrier fence, but yet the state has done nothing to implement the court's ruling.
Pollack added that when the protesters arrived at the site of the fence, the IDF stationed in the area began shooting rubber bullets and using tear gas grenades against the demonstrators.
An American activist suffered head wounds and was taken to the West Bank city of Ramallah for medical attention.
According to Pollack, some 2,500 people had taken part in the rally, 200 of them Israeli citizens.
The IDF issued a statement estimating the participation in the rally at 1,000 people, and saying that the demonstrators hurled rocks at IDF troops at the scene, and therefore the soldiers used approved methods to disperse the crowd.