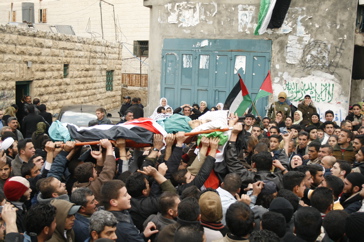 On January 25th, an 18 year old youth was shot and killed in the village of Beit Ummar in retaliation for the recent attack on settlers in Kfar Etzion.
The army entered the village around 11:30am, a day after two men from the village were killed after stabbing three settlers in Kfar Etzion. The army served demolition orders to the homes of the dead men but the houses were not destroyed. The army shot off tear gas, sound grenades, rubber-coated steel bullets and live bullets at villagers. People responded by throwing stones at the heavily armored jeeps.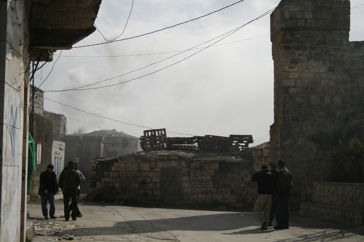 The army fired tear gas inside the homes of one of the dead men, and ordered the women of the houses to leave, physically assaulting some of them, and using them as human shields in front of their jeeps. Some of the women were consequently wounded by stones. At least three people were arrested, and five injured, one person was hit in the neck with live ammunition.
The army left around noon and came back around one, they entered the homes of the dead men again and shot live and rubber-coated steel ammunition as well as tear gas and sound grenades at groups of villagers. Israeli army snipers were moving between the houses and around 1:30pm an 18 year old youth was killed.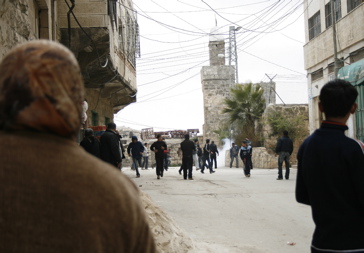 Mahmoud Awwad was a student in his final year of High School when he was shot in the torso with a live bullet and taken by the Palestinian Red Crescent to Al Ahli hospital in Hebron. An hour later the hospital confirmed he had died.
Residents of the village took the dead man to the cemetery around 4:30pm. The funeral march had around 4-5000 attendants, and blocked highway 60 on its return. The army fired on the mourners to disperse the funeral procession, continuing afterwards to shoot tear gas inside the village. One car of settlers hit two of the mourners during the procession, one of them is still in serious condition.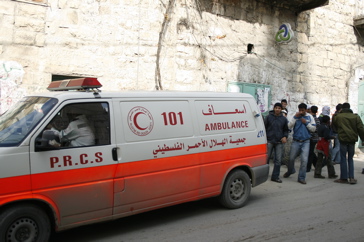 At the end of the day a man laid dead, at least 10 people were injured, some in critical condition. One of the injured was Palestinian activist Mousa Abu Maria, co-founder of the Palestine Solidarity Project.
There is a demonstration planned in Beit Ummar tomorrow,
for more information contact:
Yousef (arabic): 0522307672
Yonatan (Hebrew, english): 0543338046