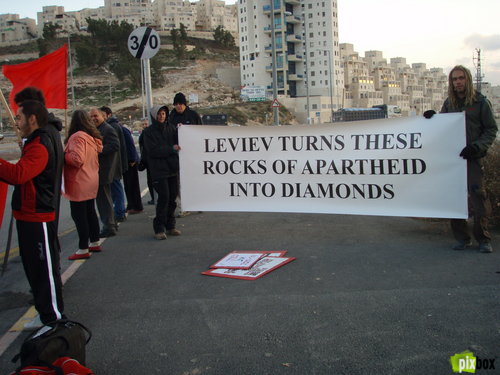 Today a group of Palestinian, Israeli and international peace activists gathered at the entrance to the illegal settlement Har Homa, not far from Bethlehem, to protest against Israel's ongoing expansion of illegal settlements in the occupied West Bank.
The demonstrators lined up at the settler road with banners, flags and speeches about peace, justice and a settlement freeze. Settlers passing by answered the demonstrators with verbal abuses and obscene gestures.
Israel is planning to build over 300 new residences in Har Homa despite it's obligations under the 2003 Roadmap to Peace. The Israeli government defend their acts by stating that Har Homa is an integral part of annexed greater Jerusalem, and therefore should be seen as a part of Israel and not the occupied West Bank. The truth is that the international community has never recognized these borders, which were established unilaterally by Israel after the 1967 war. The world agrees that Har Homa is situated in the occupied West Bank and has to be included in the settlement freeze.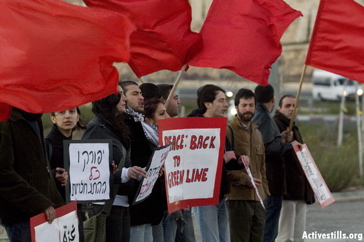 One of the banners on today's demonstration read "Leviev turns these rocks of apartheid into diamonds", referring to the diamond mogul Lev Leviev. Leviev earns his fortune on an exploitive diamond business in Angola, and blood-ruby trade with the Burmese military junta. He then invests his profits in building illegal settlements in the occupied West Bank. In addition to Har Homa, Leviev undertakes the building of illegal colonies in the villages of Bil'in and Jayyous and in the sprawling illegal settlement Ma'ale Adumim, which stretches from Jericho near to Jerusalem.
Since Israel occupied the West Bank in the 1967 war, some 470 000 settlers have moved to the occupied territories, of whom 200 000 have settled in annexed east Jerusalem. This is a clear violation of article 49 in the fourth Geneva convention which says: "The Occupying Power shall not deport or transfer parts of its own civilian population into the territory it occupies". There is also UN resolution 242 which demands all Israeli troops to be withdrawn from the occupied territories, emphasizing that Israel has to respect the internationally recognized borders and to stop territorial demands outside its own borders.
Today's demands for a settlement freeze in the occupied West Bank is a minor demand compared to what international laws and agreements tell Israel to do; a total military withdrawal from the occupied West Bank and the eviction all 470 000 settlers illegally living in the occupied West Bank.