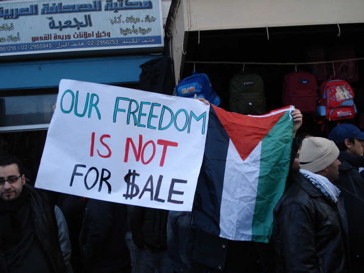 FOR IMMEDIATE RELEASE
Despite attempts by the Palestinian authority to silence any appearance of dissent, around a thousand people peacefully took to the streets all over Ramallah to protest the ongoing siege of Gaza, and to protest what they said was an attempt to strengthen Apartheid with U.S. President Bush's visit. Dozens of people were arrested and assaulted by PA police. The demonstration began at the Manara, later moving towards the Orthodox Club.
People began by unfurling banners and lifting signs in the Manara, telling Bush their freedom is not for sale. Officers tore apart signs and pushed people off the street. After around an hour people moved towards the Orthodox Club where another demonstration was taking place. They were stopped by the police short of the other demonstration, and were not allowed to join. People stood with signs, singing and voicing their protest against Bush's visit.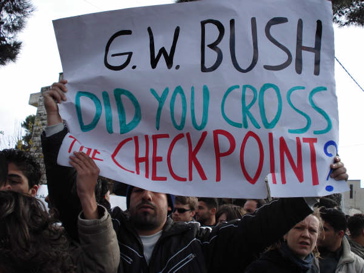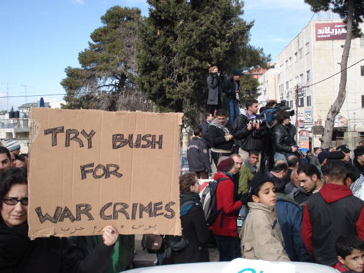 Mohammad Alatar, a spokesman from the Gaza On My Mind (Gaza 3ala Bali) campaign said, "This man is responsible for supporting the siege on Gaza, for starving 1.5 million people, for cutting fuel and electricity to the humanitarian infrastructure, for locking the doors and borders to the world's largest and most populated prison.
The peace process which began at Annapolis and is being pushed forward by Bush in his visit, has from the beginning been a way to legitimize Apartheid. The Palestinian leadership is being pushed into agreeing to a state without territorial contiguity, an archipelago of Bantustans separated from each other and controlled in every way by the Israeli Army."
For more information contact:
Ronald Wheeler 0548195210