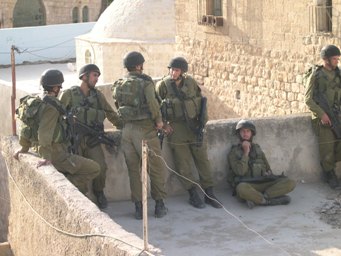 At 1 PM on November 1, 2007, six soldiers began occupying the roof of the house of the Ewawy family in the old city of Hebron, while only a 14 year old girl, who had just returned from school, was at home. The girl began screaming for help, and neighbors called for international human rights workers (HRWs) to come.
Eight HRWs responded to the call and began taking pictures and video taping the soldiers on the roof. The HRWs repeatedly asked the soldiers why they were there, but the soldiers refused to answer the question. The HRWs reminded the six soldiers that they were on the roof of a family and that they had no right to be there. The soldiers continued to ignore these comments.
The HRWs called the District Coordinating Office (DCO) for the Israeli Army in Hebron to inquire about the reason for the soldiers' presence. The DCO responded that the soldiers were there for "security reasons." Such house invasions occur in the old city of Hebron about once a week, for which the army usually cites "security reasons."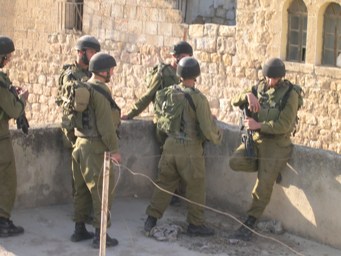 When the HRWs asked the DCO if they could do anything to help the family, who were frightened by the unnecessary presence of armed men on their roof, the DCO said no.
Neighbors and HRWs repeatedly called TIPH (Temporary International Presence in Hebron), but they refused to investigate. TIPH is an organization, created by the UN and agreed upon by the Israeli government, whose mission is to "help promote stability and an appropriate environment conducive to the enhancement of the well-being of the Palestinians of Hebron."
Soldiers remained on the roof for 3 hours. When they finally left, they harassed the HRWs by telling them, "More soldiers are coming in 2 hours. Wait here for them."
This house has recently been subject to having eggs and rocks thrown at it by young settlers who live nearby.