By Adalah-NY
New York, New York, Nov. 20 – The Madison Avenue jewelry store *LEVIEV New York* was again the site of protests by human rights activists angered by Israeli diamond mogul Lev Leviev's settlement construction in Palestine, and other abusive practices in Angola and New York City. Tuesday evening's protest, on the second day the store was open to the public, followed a noisy, surprise protest at *LEVIEV New York's* gala opening on November 13 which derailed the evening for the celebrities and socialites in attendance.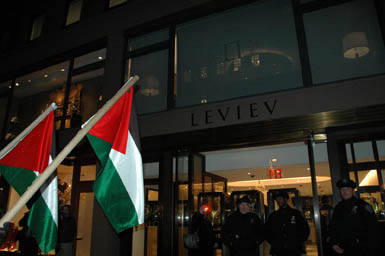 In a loud, festive protest this evening, 40 New Yorkers chanted, danced Palestinian Dabka and performed street theater. Protesters were faced by a cordon of police officer who leaned against the LEVIEV store windows, blocking any view of the expensive jewelry in the showcase. No customers entered the store during the hour and a half protest. Protesters focused on Leviev's companies' construction of five illegal settlements on Palestinian land in the occupied West Bank, Leviev's close ties with the repressive government of Angola where he mines diamonds, and Leviev's massive New York City development projects with his former US partner Shaya Boymelgreen, which have been plagued by construction problems, and have frequently utilized underpaid, non-union workers in hazardous conditions.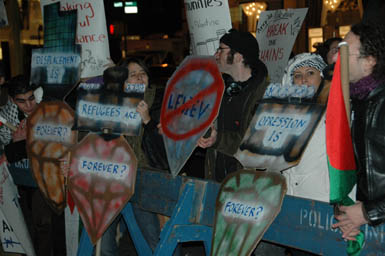 Protesters chanted, "You sparkle, you shine, but settlements are still a crime," and "How fancy, how pretty, Leviev out of New York City." They paused to hear the tale of the "gems of injustice" which featured dancing cardboard diamonds. A performance of the Palestinian national dance, dabka, to the song "Wayn ya Ramallah" was interrupted prematurely by an NYPD officer who appeared unappreciative of Palestinian culture. Since no customers were willing to enter the store during the protest, protesters handed pedestrians on Madison Avenue gift bags which included soil from Palestine and a thank you note saying, "Dear valued customer, with every purchase you make from *LEVIEV New York*, you help Lev Leviev to seize a handful of Palestinian land in order to build more illegal Israeli settlements."
Riham Barghouti, a spokesperson for Adalah-NY, explained that "This new campaign is a strong local response to the Palestinian call for Boycott, Divestment and Sanctions. It shows the willingness of more individuals in the US in general and in New York City in particular to carry out effective action to oppose the building of Israeli settlements on confiscated Palestinian land, and other Israeli human rights violations."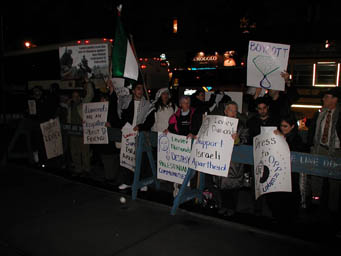 The protestors' call for a boycott of Leviev's businesses comes days before the US government hosts Israeli and Palestinian leaders at Annapolis, Maryland for negotiations. Israel's rapidly expanding settlements, viewed worldwide as a violation of international law and an obstacle to peace, will be a major topic at the negotiations. Leviev's Danya-Cebus and LIDAR companies are building homes in the West Bank settlements of Zufim, Mattityahu East, Maale Adumim and Har Homa. Previously, Danya Cebus built homes in Ariel settlement. The five settlements in which Leviev has built homes seize vital Palestinian water resources and agricultural land, and are strategically located to divide the West Bank into disconnected enclaves, making the creation of a viable Palestinian state difficult or impossible.
The Israeli newspaper Yedioth Ahronoth has also reported that Leviev is a primary donor to the right-wing Israeli organization the Land Redemption Fund. The Fund spends its large budget to secure Palestinian land for Israeli settlement expansion, allegedly with the aid of deceit and strong arm-tactics. Journalist Meron Rapoport revealed today in the Israeli newspaper Ha'aretz Daily that Leviev was a guest of honor two years ago at a major event in Jerusalem for Elad, an Israeli organization which promotes the "Judaization" of Palestinian East Jerusalem. Elad refuses to reveal the names of its donors.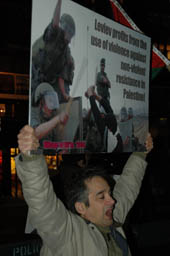 Leviev, Israel's richest man, burst onto the New York City scene by buying up a large number of properties and buildings in Brooklyn and Manhattan over the last five years. He came under fire, along with his former US partner Shaya Boymelgreen, from the Laborer's Union and ACORN for the working and safety condition at his development projects. Brooklynites are concerned that these problems will carry over into the duo's planned Gowanus Village project.
Protest organizers announced plans to flyer outside *LEVIEV New York* this Friday, the busiest shopping day of the year, and to organize a large protest in the coming weeks. "We will return as often as necessary until New Yorkers understand that Leviev's triangle trade is built on human rights abuses and the destruction of marginalized communities in New York City, the Palestinian towns of Bil'in and Jayyous, and in Angola," said Ethan Heitner, a spokesperson forAdalah-NY.
For more info see Adalah-NY: The Coalition for Justice in the Middle East:
www.mideastjustice.org