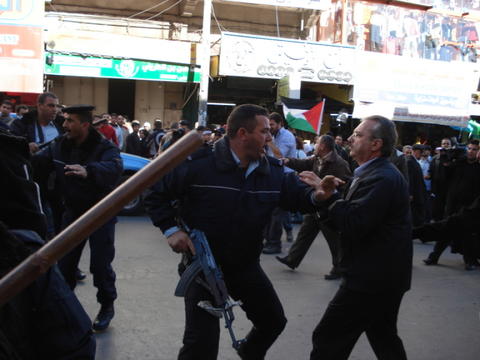 On Tuesday, the 27th of November, non-violent demonstrations calling to uphold the fundamental rights of Palestinians turned ugly. In demonstrations across the West Bank, from Ramallah, to Bethlehem, to Hebron, protesters were set upon by Palestinian police for stating their opinions.
The non-violent protesters came from all walks of life. One of the Ramallah demonstrations that was organized by the Grass Roots Anti-Aparthied Wall Campaign and dozens of Palestinian civil society organizations from throughout the West Bank, Gaza, and inside Israel.
The demonstration called for a process of negotiation "aimed at the implementation of the rights of our people, and the establishment of a timeline for such implementation, not negotiation on the rights themselves." The people present, as well as the things they chanted, were consistent in supporting a just peace and national unity.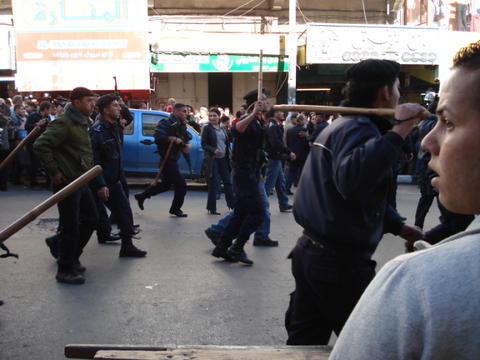 In Ramallah 200 people were detained, and 30 people were injured. Police began attacking and arresting people for holding signs, and speaking their mind. Signs and banners were confiscated, and journalists, or even people filming with their cellphones, were particularly targeted for violent oppression by the police. Live fire was used to threaten the demonstration, and police drove by with machine guns raised.
In Bethlehem 50 people were detained, and the police used water cannons to subdue the crowd. Here, like elsewhere, journalists were specifically targeted. In Hebron 37 year old protestor Hisham Barad'i was killed. According to Palestinian news agency Maan medical sources said that Palestinian security forces shot Barad'i in the heart during a 2500 strong demonstration organized by the Islamic group Hizeb Ut-Tahrir.
Click here for the orinigal document:
http://www.apartheidmasked.org/?p=303