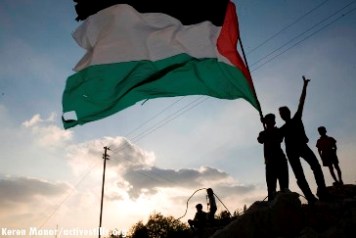 The 135th demonstration in the village of Bil'in took place yesterday. Normally the demonstrations occur on fridays, but this week something changed all that. This week, we encountered a seismic shift. Three Israeli judges ruled in favor of the villagers, saying the Apartheid Wall, which has been the focus of their weekly demonstrations for over two years, must be moved to grant access to Palestinian land. The villagers responded by having a spontaneous celebration, followed at 4:30pm by a demonstration at the gate to their land. Hundreds of people, men, women, children, Palestinian, Israeli and international came together hands held, flags raised and heads high to march to the gate that was the site of so much military violence.
Cars followed the people waving Palestinian flags of various political parties. People spoke and danced as music played from the moving vehicles. At last, they reached the Apartheid Wall without military aggression. The soldiers standing at the gate had no response. As the sun gradually set over the carcass of Matityahu East on the backdrop of hills, people later marched back, chanting, singing, impossibly happy. The party gathered near the village mosque and continued into the darkness with fireworks, music and cheers echoing into the night.
Out of more than a hundred and twenty cases filed against the wall in the West Bank, only four have been sucessful, Budrus, Alfe Menashe, Biddu, and now Bil'in. With the exeption of Alfe Menashe, the other three villages used joint non-violent struggle to fight against their situation in conjunction with legal mechanisms. While we are overjoyed at this victory for Bil'in, and for the success of joint Israeli-Palestinian non-violent resistance, we feel we must remember the more than a hundred and twenty other villages who have had their cases denied. It must further be recognized that only half the battle for Bil'in has been won.
The wall still exists, and still stands on Palestinian soil. It still perpatrates a grotesque land theft from both Bil'in and the other hundreds of villages who's land lies along the route of the Apartheid Wall. The petition against the construction of the illegal Matityahu-East settlement was rejected today, and the settlement will be completed on Palestinian land. The court appeared to recognize the illegality of the settlement, however, due to the fact residents are currently squatting in their half-built apartments, it was decided the buildings would not be torn down.
However, with full knowledge of the sad reality all over the West Bank that the occupation and the wall still exist, this is still a victory, and yesterday the villagers of Bil'in danced and laughed and rightly congratulated themselves.
More information about the village, its legacy and fight, can be found here:
https://www.palsolidarity.org/main/2007/09/04/bilin-court-decision-victory-for-both-village-and-for-non-violent-struggle/
For now read the thousands of words these pictures speak.