Al Walaja 31/8/07
On Friday August 31st at 12:30pm Palestinians, Israelis and international activists met at the village of Al Walaja north of Bethlehem to demonstrate against the construction of the annexation wall, which when complete will surround Al Walaja on three sides. The wall will also make a large amount of land owned by Palestinians inaccessible, and will therefore be used by the illegal settlements that surround Al Walaja for expansion.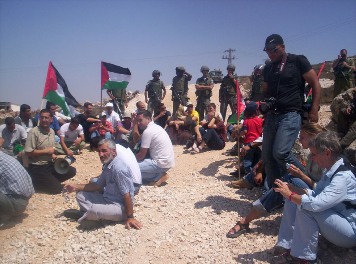 The demonstration started with prayer on a road used by trucks and other machinery used to build the wall. Following this, one of the community leaders spoke briefly informing people to move up onto another track that leads directly to where the wall is being constructed. As around 40 demonstrators walked up the track they were met by a line of 20 IOF soldiers. The demonstrators then continued non-violently and sat in front of the soldiers. The soldiers stood directly behind the sitting demonstrators and a stand-off remained for twenty minutes. After twenty minutes the army began by threatening to arrest the press forcing them to leave the area. Following this, the soldiers gave a 5 minute ultimatum to the demonstrators ordering them to leave the track, and they showed a military order in Hebrew and with no map, declaring the area a closed military zone. After a heated debate between 6 community leaders; one of whom wanted to stay on the track and the other 5 who wanted to leave; an agreement to leave was made.
All the demonstrators followed the decision and left the area peacefully.