Thursday, July 19, 2007 at 6:50 am approximately 50 Israeli Occupation Force (IOF) soldiers and border police, accompanied by a bulldozer, came to the village of Zawata, located by the West Bank city of Nablus. At 9:30 am they demolished one home despite attempts by international human rights activists at the scene to stop the demolition. Later the IOF caused severe damage to several other houses in the area. (For more information on the second part of the Israeli siege, please look at the second report.) Asad Natour, 47, his wife, Saeda, 39, and seven children are homeless now due to the egregious acts of the IOF.
"When the kids saw them do all of this—they wet their pants," Asad told an international activist during a video interview. "First they shot at the house. After that they called on us using the megaphones. We exited. We had our hands up and went out on the street. They said take off your clothes." The family was made to stand in the sun on the street adjacent to their home during which time they stripped completely for a full-body search even his youngest daughter Laura, who is six, was subjected to this brutal Israeli tactic of deprivation and humiliation.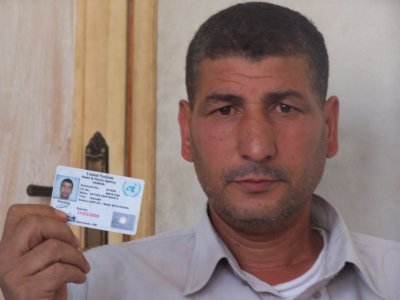 "If they want to search our house, don't take us out of our house as if we are terrorists. None of us have ever been in prison or done anything wrong to another human being, but they are not human," Asad said. "They are used to killing. We are from Jaffa, we came to Camp No. 1 [Ein Beit Al Ma] and later we bought these 250 square meters here to build a house. But they don't want this."
Asad's eldest son, Jihad, 20, was taken to a building across from his home, detained and interrogated. When the IOF was finished with their "interrogation," they arrested him and took him away. No reason was given to his family for the arrest. "No, no one told me nothing!" said Asad. "I have never been in prison and neither has he. So there is no reason…They don't want our young men to grow up."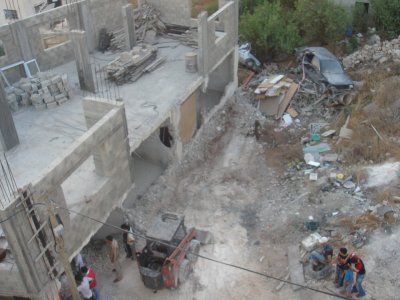 The IOF never entered the home; they never presented a military order or a permit for the destruction of the home. While demolishing first home, the IOF also demolished a neighbor's car. In addition, when the bulldozer backed up from bulldozing Asad's home, the back of the bulldozer hit his neighbor's home where a month old infant was sleeping in its bed. Pieces of concrete from the wall fell on the baby and slashed its head. The baby was taken to hospital. X-rays were performed; luckily no fractures or permanent damage was sustained to the infant's head.
"We are a people who love peace, but they don't," Asad said. "If they [Israel] are so democratic they would knock on the door. And we would open." Israel's policy of house demolitions is illegal under international law. Article 53 of the Fourth Geneva Convention reads: "Any destruction by the Occupying Power of real or personal property belonging individually or collectively to private persons…is prohibited."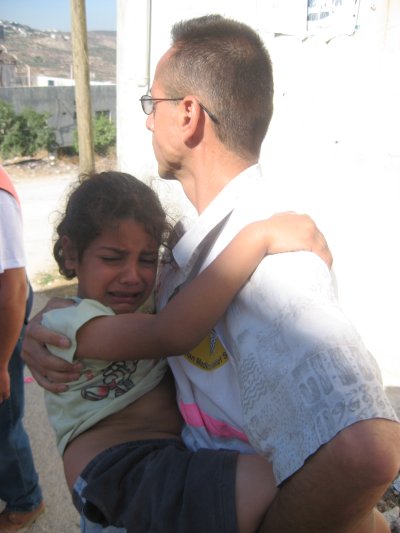 Thus as an occupying force within Palestine, the IOF acts illegally and completely of their own volition. Soldiers assaulted activists attempting to view the home demolition. When asked to present documents authorizing the home destruction, soldiers admitted they had none. A soldier on the scene declared, "I understand where you're coming from, but you're not going to see an order." Yet another soldier when asked, "So you're doing this without a military order?" answered, "I am." Furthermore, activists at the scene applied due diligence toward contacting the District Command Office (DCO). However, despite promises by the DCO representative to return calls, repeated requests went unanswered. A representative from B'tselem told an international activist over the phone that the Israeli civil authorities knew nothing about the situation on the ground.
"Whatever they want—they can do. If they want to kill—they can. The only thing they want is to destroy, they destroy the house and then that's it—they leave," said Asad. "And we hope that all of the people in the world can stand with the Palestinian people because we're repressed on our own land. Most don't have work, and have nothing to eat. And all of the Palestinian people live off of aid. That's it."
Assad is employed by the United Nations as a Modern Standard Arabic teacher at Camp No.1 Basic Boy's School. To date he has not paid off the loans he took out to build his home.
According to the website of the Israel Committee Against House Demolitions (ICAHD), 18,000 Palestinian homes were demolished in the Occupied Territories, including Occupied East Jerusalem, since 1967.
Between September 2000 the first year of the second Intifada and October 2004, approximately 50,000 Palestinians were left homeless (Human Rights Watch, Razing Rafah, October 2004).
Undoubtedly this number is much higher now.