Pesach inHebon
by ISM Hebron, Wednesday 4 April 2007
At approximately 11am, 30 Israeli soldiers passed through checkpoint 56 into H1, the area of Hebron under limited autonomy of the Palestinian Authority. The army proceeded to close all the shops on Beersheva Road, forced the Palestinians in the cars to drive away, and ordered the Palestinians to stay off the streets. Some of the shops in the market area of Bab Al-Zawiye were also forced to close. Soldiers took up positions on the roofs of Palestinian houses in this area.
The army instigated this action to facilitate group of 47 settlers with easy access to the Tomb of the Patriarchs. Many of these settlers were on in Hebron for the day to celebrate the Jewish holiday of Pesach. The settlers passed through the checkpoint into H1, but the checkpoint was closed to Palestinians. School children were prevented from going home because they, too, were forbidden to cross the checkpoint. The checkpoint remained closed for 30 minutes. Closure of Beersheva Road lasted 4 hours.
At approx. 15:15, a worker for the Palestinian Ministry for Youth and Sport was passing through checkpoint 56 into Tel Rumeida. When the soldiers checked her belongings, they confiscated some posters she was carrying.
"This poster was a Palestinian government poster depicting the Wall and the hopes and dreams of Palestinian children breaking through the Wall," she said. "They were to be used in a children's reading class."
Members of the Ecumenical Accompaniment Programme for Palestine and Israel (EAPPI) challenged the soldiers as to why they would confiscate this. "Because it is propaganda," one soldier replied. The soldiers refused to return the poster.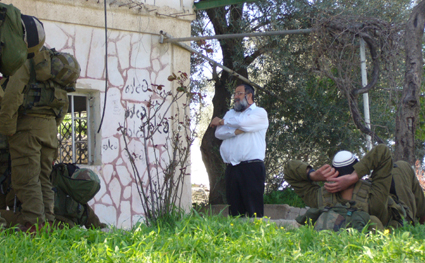 At 15:30, two human rights workers (HRWs) were in the olive grove behind the Qurtuba girls' school. The HRWs noticed that Israeli soldiers were allowing the settlers to pass from the Israeli settlement of Tel Rumeida through the olive grove, via a Palestinian home's property. The day before, the military claimed that this area was a "closed military zone". Soldiers ordered the HRWs to leave as they approached this area. The HRWs were threatened with arrest if they did not leave the premises.
The Palestinian property owner arrived, along with members of the Association for Civil Rights in Israel (ACRI), Sons of Abraham, and EAPPI. The police were called and the army commander arrived. Only at this point did soldiers begin preventing settlers from trespassing on the Palestinian property. The Palestinian owner and the volunteers were told they could remain and the settlers and soldiers evacuated the grounds.