by the ISM media team, February 2nd
Today around 100 residents of Umm Salamuna, Wadi Annis and neighbouring villages were joined by international and Israeli supporters in a prayer and march on their bulldozed land. Following the midday prayer villagers marched up the hill to a site overlooking land where work on the Apartheid Wall was being carried out.
700 dunums will be annexed by the Wall in Umm Salamuna and 270 dunums will be taken for its footprint. In addition, the Wall will prevent easy access from the village to the main Jerusalem to Hebron road, turning a 7km trip to Bethlehem into a 20km one.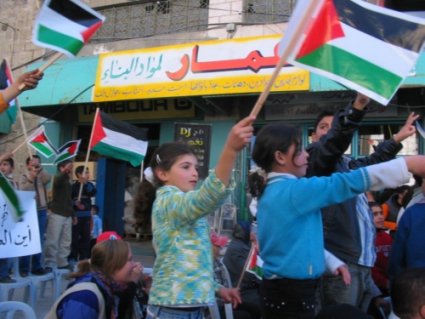 According to Khalid Al Azza, head of the Popular Committee for Land Defense in Bethlehem, villagers from the 10 south Bethlehem villages affected by the Wall have vowed to continue the weekly protests until construction of the Wall stops. They are currently appealing against the Wall in Occupation courts.
Today was the third Friday protest against the Wall on the razed land of Umm Salamuna and Wadi Annis.