by the ISM media team, February 16th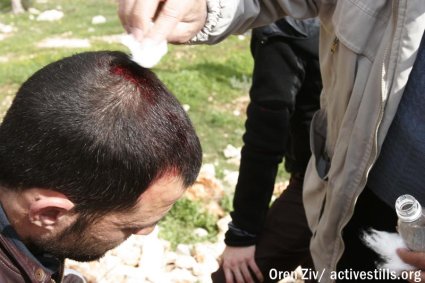 At today's demo against the Apartheid Wall in Bil'in the IOF lashed out at the peaceful protesters, inflicting 11 injuries, including one head wound. As Israeli activist Koby Snitz was attempting to protect a Bil'in villager, the crown of his head was cut open with a rifle-butt blow. His head was bandaged up on the scene and he was subsequently hospitalised.
Also targeted today was Reuters cameramen from Bil'in, Emad Burnat, who spent three weeks in prison last October on trumped-up charges. Emad was shot in the leg with a rubber bullet.
Villagers today celebrated the release of another villager abducted and held on trumped-up charges, Farhat Burnat, who was released yesterday after two weeks in detention. In line with the treatment of other peace activists from the village, Farhat was released on the large bail sum of NIS 5000 and the condition that he not attend a demo for two months despite the military judge criticising the violent behaviour of the IOF. Unable to dispute the video evidence of IOF brutality the judge, as always, nevertheless obeyed the wishes of the Occupation prosecutors.
As in previous weeks the IOF stormed through the gate in the Wall to disperse the peaceful protesters who stood their ground. The range of military brutality today encompassed the use of metal sound grenades as knuckle-dusters and throwing sound grenades two at a time among the protesters. In addition to Koby's head wound, another Israeli activist was deliberately shot with a sound grenade at close range.
Eight of the village youth were shot with rubber bullets and as the protesters dispersed after the demo, multiple volleys of tear gas were fired at them.
Next week's demo marks two years of consecutive Friday demos in Bil'in and large numbers are anticipated.