by ISM Hebron, February 25th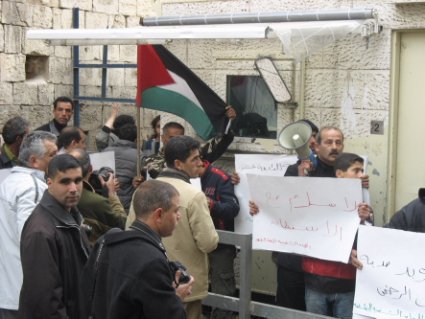 Today was the 13th anniversary of the Ibrahim Mosque massacre, in which 29 Palestinians were killed and another 125 injured. The massacre was carried out by Baruch Goldstein, a resident of the nearby Kiryat Arba settlement. Standing in front of the only exit from the cave and positioned to the rear of the Muslim worshippers, he opened fire with the an assault rifle and four magazines of ammunition. The massacre occurred during the overlapping Jewish and Muslim religious holidays of Purim and Ramadan. After the massacre a memorial was erected for Baruch Goldstein at the entrance to Kiryat Arba.
In remembrance of the massacre, Palestinian residents of Hebron held a demonstration this morning outside checkpoint 56, the main checkpoint into the Tel Rumeida district. About 20 people gathered and a local Palestinian gave a brief speech.
Settlers marked the day by dumping rubbish on Shuhada Street and later shovelling it onto the steps leading to a Palestinian home.