by ISM Hebron, January 25th
Over a hundred local residents attended today's peaceful demonstration at the Tel Rumeida checkpoint against colonist violence and road closures in Hebron. Members of the local Tel Rumeida community spoke about their struggles dealing with continued colonist aggression, the closure of roads to Palestinians and the inability to drive their vehicles.
Dr. Saher Qawasmeh (Fateh, above) spoke in support of those in the community working to stop the colonists' continued campaign of aggression against the Palestinian people and human rights worker Mary Baxter spoke to the crowd about her hopes for the future of Tel Rumeida, focusing on an end to road closures and colonist violence.
The crowd assembled peacefully, cheered on the speeches, chanted together against the Occupation and dispersed quietly and without incident. Following this second successful protest in a row in Hebron the local community intends to make them a regular event.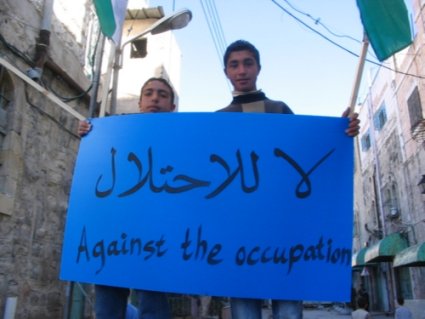 **********************