by the ISM media team, January 14th
Today, around 11am, a group of almost 100 people gathered at Huwwara checkpoint for the launch of the 30 Days Against Checkpoints campaign, organized by the Palestinian Body for Peace, Dialogue and Equality (HASM) and other organizations. Some Palestinians, mostly children, dressed as Native Americans in order to draw parallels between U.S. genocide against Native Americans and Israeli genocide against Palestinians.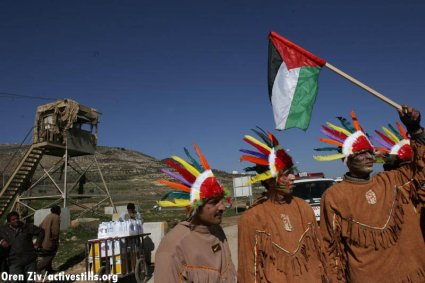 Demonstrators carried signs including one which said "Checkpoints destroy Palestinian Life." Other signs were addressed to Condoleeza Rice, who visited Ramallah today, including one which said "The Indian wars are not over Mrs RICE….We are still here too!!" Palestinians, Internationals, and Israelis chanted and demonstrated for about an hour in front of the checkpoint, where many people were waiting to cross. Both demonstrators and IOF remained peaceful throughout the demonstration.
The next action will be a musical one, featuring a youth band next Saturday at Huwwara checkpoint at 12 noon.
**************************