FOR IMMEDIATE RELEASE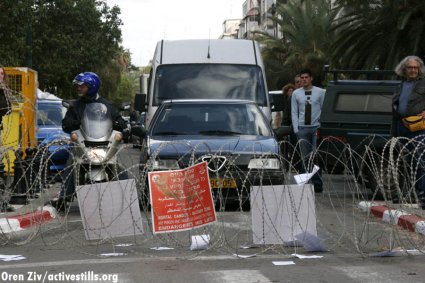 Israeli activists have blocked central Tel Aviv with razor wire from the Apartheid Wall. The activists stretched the razor wire across Basel Street with a sign from the Wall that reads in Arabic, Hebrew and English: "Mortal Danger-Military Zone. Any person who passes or damages the fence endangers his life".
The twenty activists from Anarchists Against the Wall, who attend the weekly Friday demonstrations against the Apartheid Wall in Bil'in, set up the blockade at around 2pm and started handing out flyers to passers by explaining the action.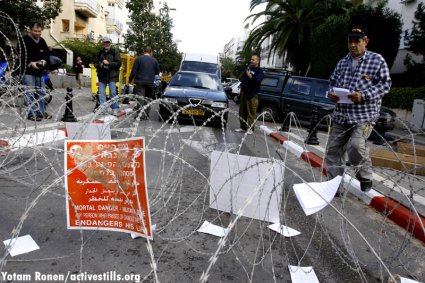 The action was taken to protest the Apartheid Wall being built through the West Bank, as well as severe travel restrictions on Palestinians. The leaflets remind Israelis that they bear responsibility for the suffering of Palestinians as a result of their government's apartheid
policies.
For details contact Yonaton Pollack: 0546327736
For photos contact Oren: 0523767272
********************************
For YNet coverage click here
For Haaretz coverage click here