by the ISM media team, December 1st
At today's peaceful protest against the apartheid wall in Bil'in the IOF lashed out at activists with fists and batons, and arrested one Israeli activist. One activist had blood streaming down his face from the assault and had to have his head bandaged by medics on the scene.
Soon after the start of the smaller than average march the intentions of the IOF were clear. Soldiers had positioned themselves on the roof of a house at a junction inside the village, and were visible in large numbers lining the route of the march.
When the villagers reached the gate in the wall with their tractor, they demanded access to their land on the other side. Being denied access, the protesters set about dismantling the razor wire in front of the gate. Despite a barrage of sound bombs and some tear gas much of the wire was removed. Unable to disperse the small but determined crowd, the soldiers called in reinforcements and escalated their military violence. They climbed over the gate to target one protester, whilst ruthlessly dealing with anyone in their way.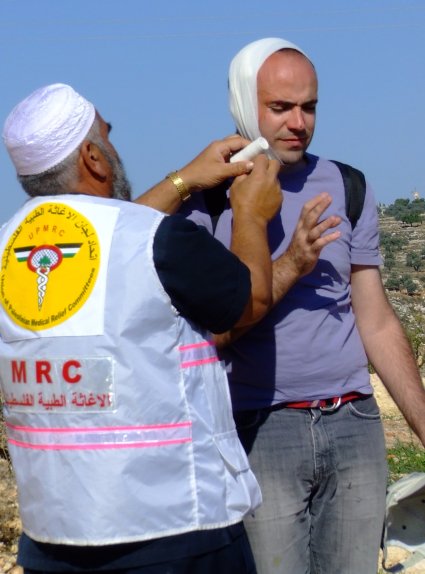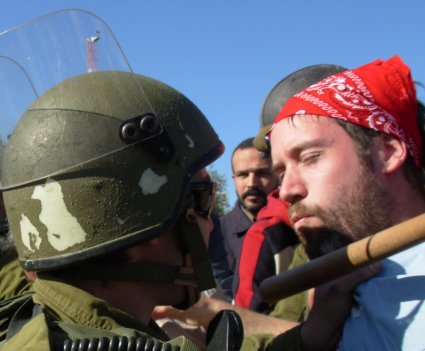 Several people suffered cuts and torn clothes, as well as the head injuries suffered by a villager and an Israeli activist. The arrested Israeli was badly beaten and had his shirt torn off. He is still in detention.
Back in the village soldiers were shooting rubber bullets and tear gas at the village children. Two children were shot, one in the head and the other in the back and legs. The brutality shown by the IOF and their large presence inside Bilin today, marks another escalation in their efforts to quash the village's non-violent resistance that has captured the imagination of peace activists from all over the world.