by Ash
For more pictures, see this blog entry.
Palestinians along with international and Israeli peace activists gathered this morning along with cameramen from different press agencies in solidarity with Emad Bornat.
Emad Mohammad Bornat of the village of Bil'in, video photographer for Reuters and documentary film maker, was arrested on Friday October 6th, 2006 by an Israeli Border Police unit that entered the village, firing rubber bullets and sound grenades.
Holding a banner "Soldiers, Stop Your Lies!", demonstrators marched towards the gate in the apartheid fence built on the land of Bilin where border police and soldiers were standing in a line. A group of Israeli soldiers were noticed hiding in an olive grove on the outskirts of the village.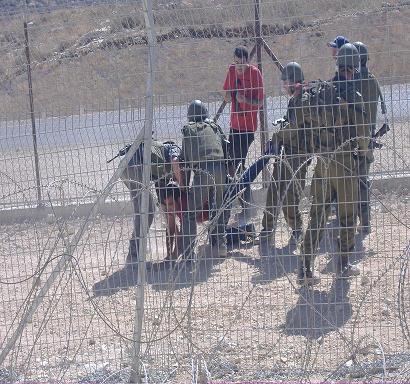 Cameramen were marching at the front of the crowd to show their solidarity with Emad. Demonstrators chanted slogans in Arabic, English and Hebrew. One Palestinian activist from the village was detained and dragged away by border police and beaten. The Israeli soldiers didn't listen to protesters demanding his release. A few minutes later, he managed to escape and run away. One Israeli activist was arrested in the process of de-arresting another activist but was later released.
The army followed the demonstration to the village firing sound bombs and tear gas causing damage to some Palestinian properties. A villager and a 14 year-old boy were shot with rubber bullets.
For more information:
Mohammed Khatib: 054 557 3285