by ISM Nablus, October 11th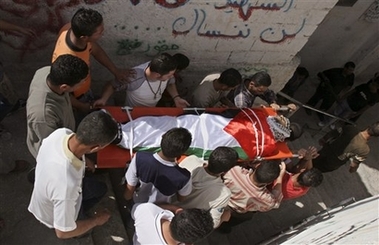 The funeral of Abdullah Mansour, murdered by Israeli soldiers. Photo credit: AP Photo/Nasser Ishtayeh
The Nablus region is constantly under siege by soldiers from the Israeli Occupation Forces (IOF). In the past three days in Nablus alone, IOF soldiers have killed four Palestinians, injured more than six, and seized at least eight.
Around 2am this morning, IOF soldiers carried out four separate military invasions in the Nablus area. IOF soldiers invaded Al-Ain Refugee Camp, Balata Refuge Camp, Askar Refuge Camp as well as the Old City of Nablus. During the incursion into Al-Ain Camp, an IOF sniper shot and killed Abdullah Mansour 29, of Jericho. Mansour was visiting the home of a relative, and was shot in the head while observing the actions of the IOF from a balcony window. Mansour was not immediately killed by the sniper's bullet and his life might have been saved if he had been given timely medical care, but as often occurs, his ambulance was prevented from reaching the area by IOF soldiers attempting to impose a closure on the area during their operations.
Some Israeli media sources reported that Mansour was a resistance fighter, shot while attempting to plant a bomb, but this account is contradicted by eyewitness reports from neighbors, a nearby photojournalist, as well as medical personnel. Monsour was a civilian, not a fighter, and he was shot from within a relative's home, not on the street planting a bomb.
On the same night Mansour was murdered, IOF solders invaded the Nablus Al-Qaryoun neighborhood in the Old City, as well as Balata and Askar refugee camps. In the course of the four incursions, five Palestinian males were taken prisoner by IOF soldiers. In Nablus' Old City, IOF soldiers broke into numerous homes and seized two brothers, Fadi Ziad Galiz 18, and Mohammad Ziad Galiz, 25. During the attack, which lasted from 2am until 4am, IOF soldiers occupied the Afuri building just outside of the Al-Qaryoun square and used the building as on observation position.
The same night, IOF soldiers invaded Balata Refuge Camp and Askar Refuge Camp. In Balata, IOF soldiers seized three men, Azmi Tawfiq Al Serafi, 20, Abu Rish, 20 and another 20 year old man known only as Hussam. The invasion into Askar Refugee camp utilized an armored, American-made Caterpillar D9 bulldozer in addition to the standard armored army jeeps. The Caterpillar trudged through the camp's narrow streets and alleys destroying water pumps and pipes, as well as causing extensive damage to camp's the central market.
In total, during the three hours of invasions into four areas, five men were seized and one killed.
This most recent upsurge of violence began early Sunday morning when IOF soldiers shot and killed a man in Balata Refugee camp. In approximately seventy-two hours, IOF soldiers would kill four Palestinian men, injure more than six and arrest many others. On Sunday morning, in a pre-dawn incursion to Balata Camp, IOF soldiers shot and killed Osama Saleh, 22, known locally as Skipper. Skipper was a resistance fighter with the Al-Aqsa Martyrs Brigade (who are linked to the Abu Mazan's Fatah movement), and was shot twice in the chest as he attempted to prevent IOF soldiers from entering the camp by engaging them in an armed clash. During these clashes, IOF soldiers killed Skipper and injured at least four additional persons.
Approximately twelve hours after the invasion into Balata, IOF soldiers shot and killed a Palestinian civilian at Huwarra checkpoint, the main barrier for Nablus residents seeking to travel south, and for those traveling from the south into Nablus. At 3:20pm on Sunday, Amjad Mohammed El-Haj Tirawi, 23, also from Balata Refugee Camp, was attempting to travel south despite the IOF's total closure of Huwarra checkpoint because of the Jewish holiday. With the checkpoint closed, and Tirawi left with no other way to reach his home, he traveled in a car on a bypass road. IOF soldiers in an army jeep who happened to be stationed on the bypass road at that time spotted Tirawi's car when it reached the Al-Sateh area, one kilometer from the village of Til. Rather then arresting the passengers of the car, the soldiers opened fire. Tirawi was shot several times in the head, chest and legs and killed. During the shooting, Ahmed Hazzaa Ramadan, 21, from Til village was also shot in the shoulder and injured. The media response by the IOF to this murder was to deny it had even happened, saying they were "unaware of any shooting incident in the area". That night IOF soldiers arrested another three men from Nablus.
Twenty four hours after the killing of Tirawi, IOF soldiers at Huwarra checkpoint murdered yet another Palestinian man. According to reports from local media, medical volunteers and eyewitnesses, Mohammed Waleed Mustafa Sa'ada, 20, also from Til village was shot and killed without provocation. Sa'ada had approached the checkpoint, heading towards a taxi that was being searched by IOF soldiers. When he was approximately ten meters from the taxi, without warning, Sa'ada was shot once and wounded, forcing him to fall to the ground. While kneeling on the ground, a second IOF soldier opened fired on Sa'ada, hitting him three times. Palestinian bystanders were prevented from aiding Sa'ada after he was shot. An ambulance with the Palestinian Red Crescent arrived soon after, and once again, bystanders were prevented from aiding the medics in their attempts to transport the wounded man to the ambulance stretcher. Sa'ada later died from his wounds.
Official IOF accounts of the incident diverge strongly from the numerous eyewitness testimonies. An IOF spokesperson said that Sa'ada was shot while "attempting to assault a solider with a knife" though no knife was recovered, and all accounts indicate that Sa'ada was nearly ten meters from the closest soldier when he was shot four times.
The following day, Huwarra checkpoint was closed to all Palestinian males under 45 years old. Soldiers at the checkpoint also beat an unnamed youth from the village of Almasharik. After the assault, the young man was taken into detention.
The last three days in Nablus have shown a dangerous upsurge in the use of deadly force by IOF soldiers. With two shot dead at a checkpoint and at least eight shot in the refugee camps, the Nablus region is under siege. There are daily incursions into the Nablus refugee camps and city center, and on an average day, soldiers invade and occupy homes, fire at buildings and arrest unarmed citizens. The recent killings have alarmed the local residents, though the regularity of violence in the area is not new. Residents of Nablus, like Azzem Hroub, 42, call on the international community to speak out against the use of violence against civilians and the frequent closures of the city. Hroub, a local shop keeper in Nablus' Old City commented on the events of the last three days and said, "They just keep killing as every day. They could use arrests but they just kill and kill. When they close checkpoints for their [Jewish] special days, what are we to do? We must try to move around, and if we do this, we are killed. What are we to do? What can the US or the UN do for us in this time? Our situation is very difficult."
In total during this the time discussed, occupation forces have arrested at least forty-two Palestinian males in military raids throughout the West Bank.
Sources:
BBC (English news source, online)
CNN (American news source, online)
Associated Press (American news source, online)
Ma'an News Agency (Palestinian news source, online)
WAFA News Agency (Palestinian news source, online)
The Palestinian Center for Human Rights (PCHR) (Palestinian Human Right group based in Gaza)
Ha'aretz (Israeli newspaper, online)
Ynet (Israeli newspaper, online)
Israeli Defense Force [sic] (press statements, online)