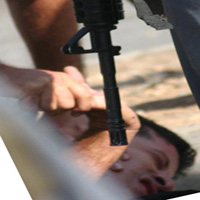 Mohammad Mansour being tortured durring his arrest June 2004
Mohammad Mansour, a non violent organizer against the illegal Apartheid Wall from Biddu, who works with the International Solidarity Movement, will stand trial, tomorrow. Sunday the tenth of September at 10:30 in the "Peace Court" in Jerusalem. He was initially arrested in June 2004 at a non-violent demonstration against the illegal apartheid wall in Al Ram. A father of five, he was falsely charged with assaulting a police officer, throwing stones and presiding illegally in an "Israeli area."
The prosecution had offered earlier to close the case if Mohammed would agree to stop participating in demonstrations for the next two years and pay a 3,500 shekel fine. "I would rather go to jail than pay one shekel to the Occupation. It is not I, but those that build the wall that are the criminals" said Mohammed.
Please come and show your support!
The International Solidarity Movement condemns the Israeli legal system's defence of war crimes committed by Israeli soldiers and settlers and its criminalization of non violent protest against the Occupation and the Apartheid wall.
For more information call:
The ISM Media Office 02-2971824
Mohammed Mansour 054-5851893
Attorney Leah Tsemel 0522-601-602