by ISM Media office volunteers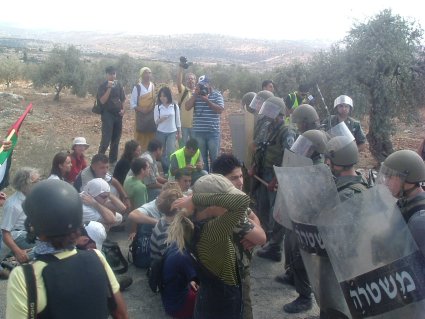 Today, as every in Friday for the last year and 7 months, the villagers of Bil'in marched from the mosque to the Wall. Joined by international and Israeli activists, the marchers were confronted on the edge of the village with baton and shield wielding Occupation forces who turned these weapons against the peaceful protesters. An Israeli activist was hit in the face with a riot shield and suffered severe bleeding. Despite the beatings being meted out the villagers sang and chanted resistance slogans.
As the protesters were being forced back into the village they sat down on the road to non-violently resist the Occupation invading the village. In contrast to previous anti-Wall demonstrations when soldiers brutally dispersed any groups of protesters, this time the soldiers allowed them to sit on the road. The rhythmic beating of a Buddhist monk's drum rang out over the act of silent resistance and shamed the Occupation forces into contemplating their unwelcome and provocative presence in the village.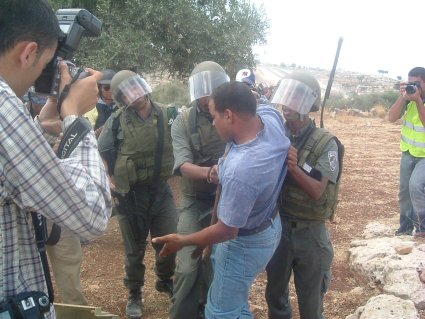 Injuries:
Yotam – hit with a shield in the face
Koby – beaten on the shoulder
Jonathan – beaten on the leg
Eyad Burnat – beaten on the leg
Adid Abu Rahme – beaten on the leg
Khamis Abu Rahme – shot with a rubber bullet
Sharar Mansour – shot with a rubber bullet
Wiyam Nasser – shot with a rubber bullet