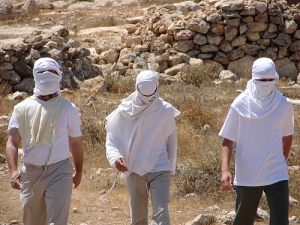 Israeli Colonist Wear: tallis, tzitziyot, and masks
by Harry Pockets
On 22nd July, ISM activists and Israeli activists joined locals from Suseya to rebuild the roof of a farmer's home that had been burned by neighbouring Israeli colonists. Suseya, an agricultural village located in the South Hebron hills, repeatedly has come under attack by Israeli colonists in the nearby settlement of the same name.
Following the arson, the family living there temporarily moved out of fear of continued harassment and physical attacks by the colonists. ISM and international human rights workers gathered with the villagers to replace the burnt roof with plastic sheets in order to return the home to a liveable condition. As the group began to lay the tarp over the home, fully-masked settlers approached the group demanding that the internationals leave settler "Holy Land" (picture above). The colonists engaged in physical and verbal intimidation, characteristic of settler interactions with Palestinians and internationals in the West Bank. In the ensuing encounter the colonists, who would not identify themselves, assaulted a female ISM member who was videotaping the incident.
Shortly thereafter the IOF arrived, called by the settlers who frequently enlist the help of the army because of the tacit and active support they receive from them. Following a dialogue led by Israeli activists, the situation calmed. The group of villagers and internationals were able to successfully replace the roof with the tarp, clear away charred remains of the house interior, and assist in watering the farmers' plants.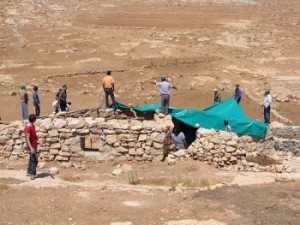 At the request of the farmers in the area, ISM activists are now living with the families who fear further attacks, including arson and assault.