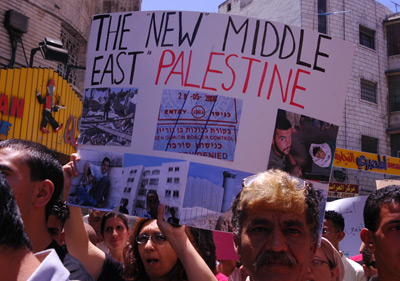 by Signifier
Taking part in a national day of protest against the West Bank arrival of US Secretary of State Condoleeza Rice, residents of Ramallah, the site of Ms. Rice's visit, shut down shop and took to the streets yesterday. The usually bustling downtown lay dormant, as store owners heeded the call for a one day strike across the Israeli-Occupied Palestinian Territories, the second in as many weeks.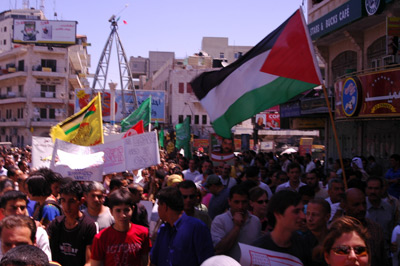 At noon, hundreds of demonstrators gathered in the city center to voice their opposition to American political and military support for Israel's bombing of Gaza and Lebanon and the continued Israeli occupation of Gaza and the West Bank. On July 13th, the United States vetoed a UN Security Council resolution demanding an immediate halt to Israel's bombing of Gaza and the killing of civilians. On Saturday, the New York Times reported that, per Israeli request, the US is rushing a shipment of precision-guided bombs to Israel as it expands its aerial assault on the population of Lebanon. Groups representing the spectrum of Palestinian political parties and resistance took part in the Ramallah protest. Joining them was a group of forty internationals in Palestine, including ISM activists and students from nearby Ber Zeit University, who came to show their disgust with the West's sanction of Israel's actions.
Conflict erupted as demonstrators marched to the Muqkatah Compound, where Ms. Rice was in meeting with Palestinian President Mahmoud Abbas. En route, a cordon of a hundred-plus armed Palestinian Authority (PA) security forces blocked the demonstrators. The PA security forces were charged with the unenviable task of protecting Ms. Rice in Ramallah, a woman who garners near universal Palestinian animosity and whom the PA men themselves likely despise, but whose security, if endangered, would spell grave consequences for all of Palestine. As the demonstrators attempted to push their way closer to the Muqkatah, the security forces reacted violently, beating demonstrators with truncheons and forcing a fearful stampede in retreat.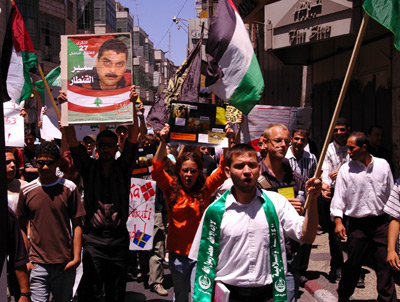 Shortly thereafter, demonstrators massed up again at the police line. A group of Palestinian women made it past the PA cordon and got to the Muqkatah doors. One woman carried a framed photo of four of her loved ones killed by Israel which she wanted to show to Ms. Rice. "What are you doing in that uniform?" another woman asked a PA security force man. "You should take it off and go join us over there. How can you hit your brothers like that? You should be ashamed!" When she sat down in front of the Muqkatah gates, security officials asked her to move. "What do you think," she demanded "that Ms. Rice has more right to be here than me, a Palestinian?"