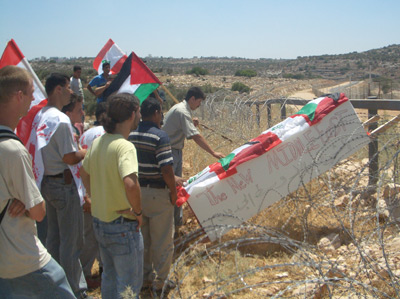 Today, Friday July 28th, the people of Bil'in in conjunction with Israelis and international supporters marched to the Apartheid wall carrying a coffin draped in the Palestinian and Lebanese flags. On the side of the coffin it read "the New Middle East", referring to the announcement that Condolezza Rice made that "It is time for a new Middle East", which followed a transfer of precision-guided missles from the US to Israel. A Palestinian activist with ISM explained that, "This US manufactured plan for peace in the New Middle East will die, just as all the plans before it that the US and Israeli tried to impose on the Middle East: the Road Map, Oslo, etc."
One-hundred people demonstrated through the village on a different route to the regular demonstration, chanting and wearing red paint on their clothes as a symbol of the Palestinians and Lebanese that have been killed as Israel implements its new plan for the Middle East. The Popular Committee quickly decided to change the route of the march due to the fact that Israeli soldiers were already stationed along the road and within the trees that the marchers usually follow. Instead they chose a path used by farmers and shepherds and reached the wall at a less fortified spot at the bottom of the hill from the gate.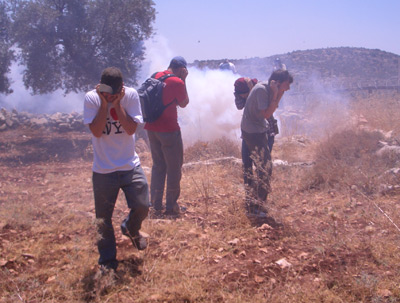 The people carrying the coffin laid it on the barbed wire that is the first of two fences that make up the Apartheid Wall going through Bil'in. Eyad Bournat, of the Popular Committee Against the Wall and Settlements, climbed up on it in attempt to lay down on the coffin and immediately soldiers threw sound bombs at the crowd. Demonstrators backed away from the barbed wire but the soldiers continued to throw bombs one after another. Abdullah Abu Rahme, also of the Popular Committee, was hit with a sound bomb on his foot and sustained moderate injuries.
The march continued up the steep hill towards the gate in the wall as soldiers fired sound bombs and rubber bullets. The marchers reached the road near the top of the hill and found many soldiers stationed inside the gate and in the trees above them. The Popular Committee decided to march back to the village so that the army could not take advantage of the demonstrators. "We must be very careful," Mohammed Khatib, from the popular committee, said. "Four internationals were killed in Lebanon and the Israeli military is allowed to claim that they didn't do it on purpose because everyone believes them."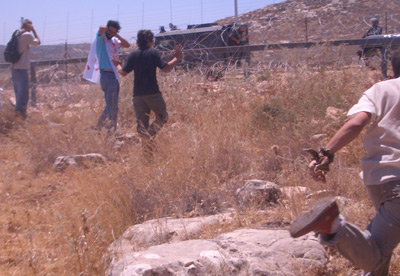 Since Israel's aggression towards Lebanon and Gaza began, the military has stepped up their violence towards protesters in Bil'in as was evident today because they were poised to strike demonstrators from all directions. In addition, the war in Lebanon has drawn media attention away from non-violent protests and today there were only a few, making it also more dangerous for protesters without the media attention.
Although the demonstration was shorter than normal, the continuation of these protests has had a positive affect on the Supreme Court Cases that Bil'in has filed. On July 25th the Supreme Court ruled on HCJ 143/06, reinforcing their previous order to halt construction of the settlement Matityahu East and stop residents from moving in to empty apartments. They also ruled that pockets of the land on which settlement buildings stand belongs to residents of Bil'in and that the real estate company can demolish buildings to return the land to its previous state. The court also ruled that there must be a public road for walking and cars to connect the village with the pockets of land inside the settlement because residents of the Bil'in have the right to be there according to the Israeli courts. In June, families of Bil'in moved into these buildings that are built on their land to call attention to their land being stolen, but were evicted by the Israeli police soon after. Khatib announced to demonstrators after the demonstration, "We will keep struggling and these direct actions have put pressure on the court, which we have won a small victory in recently and hopefully we will have more victories in the court decisions to come."