FOR IMMEDIATE RELEASE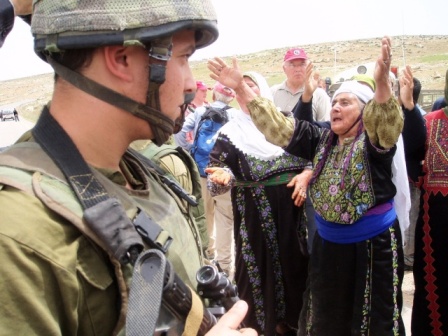 Picture by CPT
At-Tuwani, South Hebron Hills-
Israeli Occupation Forces beat non-violent Palestinian, international, and Israeli demonstrators this morning after declaring the area a Closed Military Zone. No map of the Closed Military Zone was ever shown to the protestors.
At-Tuwani villagers, Palestinian activists, Christian Peacemaker Team members, Operation Dove members, and Israeli activists from Ta'ayush were protesting against the Israeli authorities' plan to build an 80cm 'security' wall along one side of bypass route 317.
An Israeli high court case appealing against the wall is currently in process. Despite this, construction continues further along the road towards Susiya.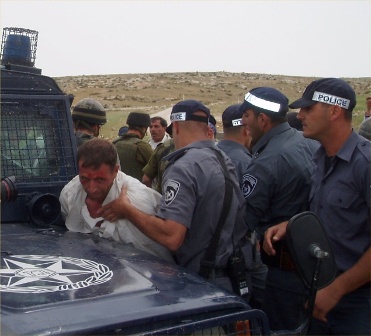 Picture by CPT
Yehuda Golan, a retired Brigadier General with 31 years of service in the Israeli military and a member of the Council for Peace and Security, said, "I do not have a shadow of a doubt that this is not an act of security. This is a wrongful and irresponsible use of the term 'security' for other objectives."
The demonstration began this morning at about 10:30am when demonstrators were confronted in At-Tuwani, a village south of Hebron, by about 30 Israeli soldiers, Border Police, and Special Forces. The protestors were blocked by police and jeeps, but went around them and reached bypass road 317.
The police then told the demonstrators that they could stay along the road as long as they didn't block it. The demonstrators obliged and stood off the road along the sides.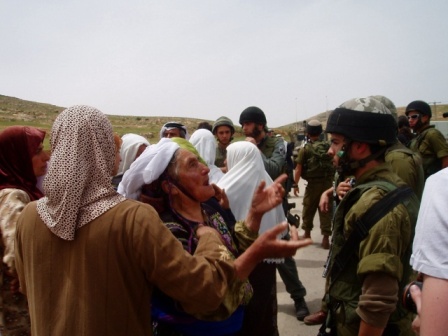 Picture by CPT
After 20 minutes the police told the crowd that they had to go back. The police asked the Palestinians where they were from, and told them they had to return to their homes.
A few minutes later the police started pulling people off the side of the road to arrest them. They grabbed two Israelis first, and then a Palestinian from At-Tuwani, Hafiz Haraymi.
As the police started to drag Hafiz away his 75 year-old mother tried to prevent the arrest by getting in between Hafiz and the police with members of the Christian Peacemakers Team. Soldiers and police beat everyone away, shoving Hafiz's mother to the ground several times and stepping on her stomach. She had to be evacuated to the hospital. Hafiz was taken to a jeep and handcuffed.
Activists stayed to wait for news and were told Hafiz was arrested for hitting soldiers with a stick. Video footage shows that he did not, and it will be aired on Channel 1 in Israel this evening.
For more information contact:
Christian Peacemaker Teams in Hebron- 02 222 84 85
A report on the impact of the wall can be found at http://www.cpt.org/hebron/hebron.php