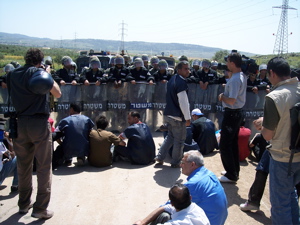 On 14th April, my second day in Palestine, I visited the small village of Beit Sira, near Ramallah.
In many other countries the inhabitants of such a village would spend today tending their farms, being with their families and friends, or popping down to the local shop. But Beit Sira has lost 70% of its land since 1948.
The nearby Kibbutz is built entirely on former village land, and more recently the settlement of Makkabim has been built on yet more village land. Now another swathe of land has been stolen to build the grotesque apartheid wall.
A well, that was crucial to the water supply of the village, is on the far side of the wall. Israel pumps the water from the well and sells it back to the Palestinian Authority. So the people of Beit Sira now have to pay 4 shekels/cubic meter for their water, whilst people in the illegal Israeli settlement of Makkabim pay just 1 1/2 shekels/cubic meter for water stolen from Beit Sira.
The village now holds a weekly demonstration to protest against the building of the wall, and I was with a group of internationals and Israelis who had come to support them. As we walked down from the village we could see the massive coils of razor wire, a wide gravel track (soon to become a 'security road') the other side of the wire, and beyond that the illegal Makkabim settlement.
Bizarrely the Israelis have uprooted hundreds of olive trees to build the wall, and then dug up part of the village's existing road to replant the trees. The scheme hasn't worked; the replanted trees are all dead.
As about 50 of us walked down the road with nothing but our cameras and water bottles we faced a line of armed police bearing riot shields and behind them some soldiers and jeeps – completely incongruous on a country lane surrounded by fields of crops and olive and almond trees.
Since the villagers started their demonstrations several weeks ago they have been threatened by the Army, to the extent that they could not even open the Community Centre for us to congregate in. The Army are clearly aiming to quash any resistance to the building of the wall and theft of the land. The villagers have already taken their case to court requesting that the wall be rerouted, but the court rejected their application.
When we reached the line of riot police we all sat down peacefully in the road in contrast to the violent intents of the armed police who faced us.
It was clear that we would not be able to go any further down the road, and after a short while the villagers declared the demonstration over and we returned to the village.
– Jody