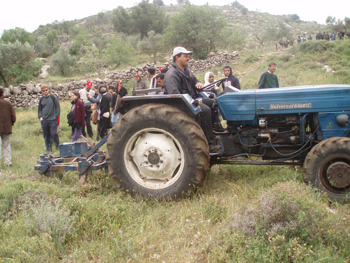 This morning I travelled to the village of Jab'a, just South of Bethlehem, where local Palestinian farmers have faced intimidation by settlers when trying to access their land. Jab'a is a village of 900 people facing annexation of part of its land by the Apartheid Wall. It is near the Gush Etziyon settlement block and faces frequent problems with settler violence.
This morning about 50 Internationals, Israelis and Palestinians converged at Om Al Jamjoum below the illegal settlement of Beit Ain to plough the land. Settlers watched from the hilltop settlement as Palestinians brought a tractor onto the land for the first time in five years.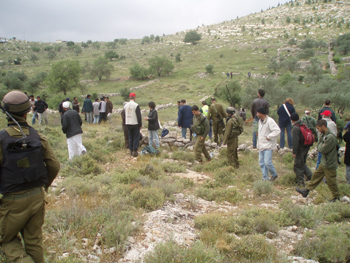 The army and border police arrived at about 10.30am and spoke to the activists. There was talk of a closed military zone in the area but Israeli activists convinced soldiers that this would be illegal in light of the Israeli Supreme Court ruling on land disputes.
The Palestinians ploughed the land up to about 200 feet from Beit Ain. Settlers tried to intervene, sitting in front of the tractor and blocking the work on Palestinian land, but were outmaneuvered. The action was very calm, passing with the minimum of confrontation. And the Palestinians successfully accessed their land.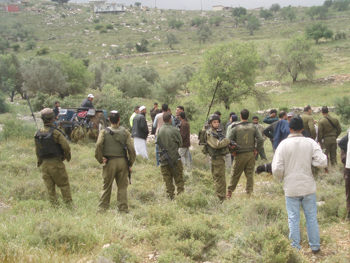 Many of the activists were Israeli, from Ta'ayush, Anarchists Against the Wall and Rabbis for Human Rights, and the settlers tried to convince them in Hebrew that they had been fooled by the Palestinians and that they had no problem with the Palestinians accessing the land. However, the land told a different story, it was completely overgrown and untended to. Settler intimidation and violence had prevented the farmers' access before today… If we had not had large numbers of activists then the settlers would have behaved very differently.
Overall a very successful and productive act of resistance to the occupation
The Wall Must Fall