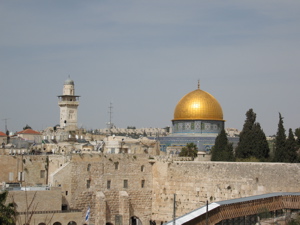 From the BBC
Hamas officials say Israeli police have detained a cabinet minister from the new Hamas-led Palestinian government.
Khaled Abu Arafa, minister of Jerusalem affairs, was arrested on the outskirts of East Jerusalem, the officials said.
Hamas said Mr Abu Arafa, a resident of the city, had been detained several times by Israel in the past.
He is one of a group of officials who became ministers last week after the militant group won December's Palestinian elections.
Israeli officials have so far only said that they are checking reports of the arrest. The matter has been referred to the Israeli prime minister's office.
News agency reports said Mr Arafa was detained at a checkpoint at the entrance to al-Azaria, a suburb of East Jerusalem.
His bodyguard told the BBC that their car was stopped by Israeli border police and the minister asked for his papers. He said there was an argument and Mr Arafa was dragged from his car.
The BBC's James Reynolds in Jerusalem says it seems likely that Israel arrested Mr Arafa because he was on his way to inaugurate new political offices.
Israel bans all political activity in East Jerusalem.
Heart of the conflict
East Jerusalem is at the very heart of the Israeli Palestinian conflict. The majority of its residents are Palestinian, and Palestinians hope to make it their future capital.
Israel says the whole of Jerusalem is its indivisible capital. East Jerusalem, like the West Bank, has been occupied by Israel since 1967.
Israel annexed East Jerusalem in 1981, but its claim to the area is not recognised internationally.
Under the plan for further unilateral disengagement proposed by acting Prime Minister and Kadima party leader Ehud Olmert, East Jerusalem and large areas of the West Bank, especially the area around the city, would remain under Israeli control.