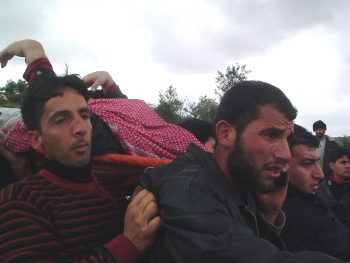 FOR IMMEDIATE RELEASE
At 2.10 pm, Eyad Tahar was found dead, drowned in a flood near the annexation barrier. His body was found trapped on the annexation barrier's razor wire. A valley between Bil'in and Safa (west of Ramallah) has been flooded near the construction of the illegal barrier there, which prevented the water from draining creating a pool which according to villagers reaches over the level of the olive trees.
Eyad and Raad Taha from Beit Annan were on there way to work in Rammallah when they were washed away by the flood water. Eyad's brother Raad was found unconscious shortly after and is currently in hospital in Biddu. Israeli military prevented the Palestinian rescue party from using a bulldozer to drain the water.
Dr. Khaled Ayash, from the Carmel hospital in Biddu, who examined the body said that the cause of Eyad's death was drowning.
Pictures are available on the ISM website:
www.palsolidarity.org
For more information call:
ISM Media Office: 022 971 824 or 057 572 0754