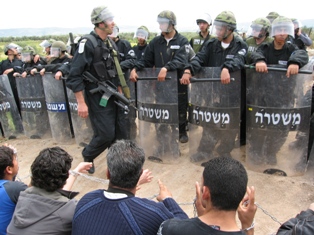 At 1:30 this past Friday, the Popular Committee Against the Wall and Settlements in the Palestinian village of Beit Sira, just west of Ramallah held a demonstration against the apartheid barrier being constructed on the village's land. This was all despite recent threats from the Israeli civil administration to withdraw permits to work in Israel from villagers if demonstrations continue.
The march of about 100, was held by villagers and accompanied by Israeli and international supporters. It marched through the village and down a road adjacent to the nearby illegal Jewish settlement of Makkabim, singing and chanting. All along the road we could see olive trees that had been cut down to stumps and replanted there by the military. They had previously been uprooted from another part of the village land where they plan to build the annexation barrier.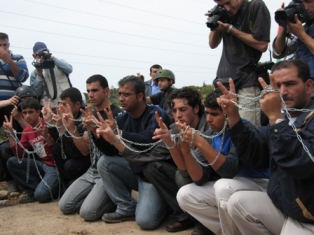 At the head of the demonstration, Palestinian and Israeli activists symbolically chained themselves together as an illustration of the imprisonment of the villagers due to the wall and settlement. About 15 minutes after they had set off they met a solid line of Israeli Border Police in Riot Gear blocking the road and preventing the demonstration from proceeding. The Palestinians reacted to this in a completely non-violent fashion. They sat down in the road and held some speeches and some interviews with the press. Some of the border Police tried to provoke the youth of the demonstration by moving around the small peaceful crowd armed, as usual, with fully-automatic machine guns.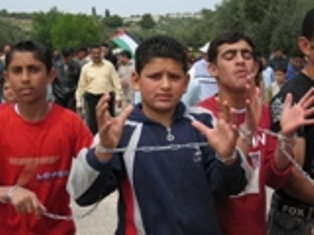 Their provocation failed to provoke the response that meant they would have been allowed under Israeli military rule to open fire with rubber-coated bullets. Instead, when the interviews and speeches were over, the villagers calmly ended the demonstration, walking hand-in-hand to bring the demonstration to a close without being attacked by the Israeli soldiers, as has happened in past demonstrations.