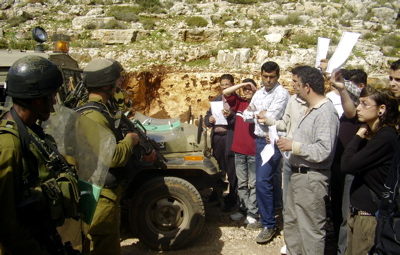 by Harry Palestine Pal
The people of Abud recieved a court decision on Thursday by the Israeli High court to cease construction og the wall in that area for 14 day. Despite this on Thurday at around 11am villagers still saw the bulldozers hard at work, destroying their lands. A rally of 100 Palestinians, Israelis and Internationals marched down holding the court decison in their hands to make sure the decision was enforced.
We marched down from the village and onto the road but the millitary were expecting us to march over the hill. When the Army couldn't physically block us because they were too far away, they resorted to tear gas, but the rally pushed through. The army finally caught up with us. After a sound bomb was fired and a lot of shouting they were finally prepared to talk. They promised that they had ceased construction 1 hour ago and that they were no longer going to violate the court order (maybe it was just because it was the start of their weekend). The villagers said they would be watching and that they would be back if the court order was violated again.
The barrier near Aboud has already been completed on the Green Line 6 kilometers west of the village and now an additional fence on Aboud land close to the village will annex the Israeli Bet Arye and Ofarim settlements. These settlements were illegally established in the 1980's on Aboud's land. The separation barrier will annex more of the villages farmland to Israel in violation of international law.