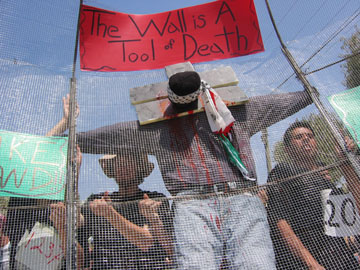 A wall moves through Bil'in
A woman who showed up in her military uniform along with protesters in Bil'in was quickly arrested by soldiers and transferred to IDF investigators for questioning. About 100 or so peace activsits carried their own version of Israeli's annexation wall that is being built through villages like Bil'in. Soldiers detained more than 30 Israeli and foreign demonstrators. Two Israelis were arrested.
The soldier was taken to IDF investigators to be questioned. Her identity is not known, but an Israeli activist who is friends with her said she had been drafted one month ago and had questions about Israeli's tactics of enforcing the occupation. While the protest neared the area of the village which was blocked by soldiers, she approached them to talk about what they were doing there. She was quickly whisked away.
Friday is Bil'in's day of peaceful but direct protest against Israel's illegal wall, which is being built though the village, cutting off locals from 60 percent of their land.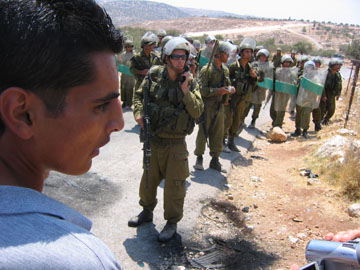 Palestinians, Israeli and International activists filled the streets in this West Bank village. At the front of the procession was an effigy of a crucified Palestinian on a fence. The fence represented the Wall, and the form of the Palestinian hung on it represented the suffering of Palestinians because of the Wall. Signs posted on the fence said that the Wall is a tool of death, and another two signs that said you take our land, you take our lives.
When the demonstration reached the wall of soldiers it stopped. After about ten minutes of chanting everyone took a side road to reach the site of the wall construction. At this point, the Israeli soldiers were caught off guard. Tear gas was fired and sound grenades exploded. A group of Israeli activists were separated and detained.
Internationals formed a line, locked arms and sat down in classic nonviolence civil disobedience. The soldiers tore people away. In all, 10 internationals were detained and 24 Israelis, 2 of which were arrested. The protest meanwhile went on and escalated to rubber bullets aimed at children throwing stones. Eventually the detained activists were released.
The United Nations' International Court of Justice issued a ruling, though a nonbinding one, in 2004 saying the annexation barrier which zigzags around the West Bank is illegal and should be torn down.
At the demonstration, Palestinian activists handed out a statement to reporters and photographers who had made the trip to Bil'in to see what the situation was:
Help keep our village from becoming a prison

Dear media representative,

First, thanks for coming to our village. We like it here, and we want you to see what it is we're trying to defend. We hope you take a look around and get to know the place and people here, and see that there's something here worth saving. We want as many people as possible to see what's being done to our land with their own eyes, so they can make their own conclusions about what's going on.

If Israel is allowed to continue building its illegal annexation barrier on our land, it will mean death of Palestinian identity, security and any chance for sovereignty. It will mean the slow painful demise of our village. That's the message of our weekly demonstrations.

Today we wear black, because it is the color of mourning. We feel like we are on a funeral march for ourselves.

Bil'in is being strangled by the Wall. Our village sits two and a 1/2 miles east of the Green Line, yet Israel's Wall and settlements will take more than 60 percent of our land. This land is also money to us. Bil'in's 1,600 residents depend on farming and harvesting olive trees for our livelihood. The Wall will turn Bil'in into a prison. It will further curtail the limited freedoms we now have.

We are not asking you for much. Just give us a chance to get this side of the story out. If this wall is for security, why is it being built so far from internationally recognized borders? Why is Israel creating so much animosity if it really is seeking safety? The reality of the situation is that this is a land grab. And in the process, it is killing us. We rely on you to get our message to the outside world. Pretty soon we won't be able to. Pretty soon, we'll be in a prison.

— Bil'in Popular Committee Against the Wall

"Everybody has to move, run and grab as many hilltops as they can to enlarge the settlements because everything we take now will stay ours … Everything we don't grab will go to them." — Ariel Sharon, then Israeli Foreign Minister, addressing a meeting of militants from the Tsomet Party, November 15, 1998