Israel's wall along the Qalandia checkpoint road heading from Ramallah has become a giant backdrop for images of the occupation. Regularly on Thursday, and occasionally other days of the week, Passers by heading toward Qalandia see videos and slides of demonstrations, artwork and documentaries in opposition to the occupation, Israel's illegal settlements and annexation wall.
Members of the Sharek Youth Forum came up with the idea. Teens went to a section of the wall a few meters away from the checkpoint and painted a large white square for a screen. They've since been showing a section of photojournalism slides and a presentation of photos from George Azar's photography called "This is Palestine."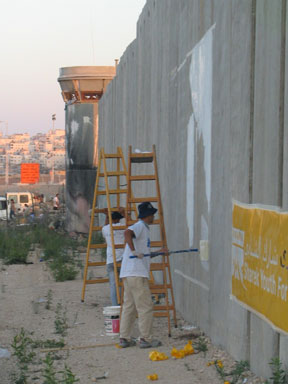 More video clips and films also are planned for screening on the Palestinian side of Israel's wall in the coming weeks.
"Most people really seem to like it," said Mohamed Jaradat, a coordinator for Sharek Youth Forum. "It's a new thing and it's a peaceful way to use the wall to continue demonstrating against it and the whole occupation."