Justice is difficult to come by in the middle of an illegal military occupation. For some, with the legal and financial resources and freedom to pursue it, there is a slim chance that they might see some limited response. For many others, though, the chance to have the wrongs committed against them addressed will never come.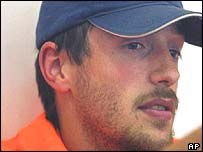 A little over two years after he killed British Peace activist Tom Hurndall in Gaza, Ex-sergeant Taysir Hayb was sentenced today to eight years in prison by a military court.
Tom was one of hundreds of civilians killed in Rafah alone in the past four years. He was shot while trying to get children out of the line of Israeli army gunfire. As he bent down to pick up a young boy, he was shot in the head by Taysir.
Taysir received even years for manslaughter and one year for obstruction of justice. Outside of manslaughter, he was found guilty of obstruction of justice, incitement to false testimony, false testimony and improper conduct
Tom's sister, Sophie Hurndall pointed out to the BBC that "It's a huge landmark, it's a milestone, it's the first time that a soldier's been convicted of manslaughter since the first Intifada and it's obviously been a long time coming."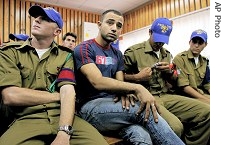 While it is a positive sign that an occupation soldier was held accountable for his actions, it took two years for it to happen, and many other equally horrible deeds have gone uninvestigated.
We should not forget what has happened to Rachel Corrie and Brian Avery. Brian still seeks answers about the bullet that scarred his face for life, and Rachel's family continually are denied access to a fair and independent investigation into her death. In fact, they still do not know the identity of driver of the bulldozer that ran her over as she stood to protect a home in Rafah, the same Gaza community where Tom was shot.
Most importantly, though, are the thousands of Palestinians denied access to investigations into the deaths and injuries of their loved ones as a result of the inhumanity that Israel's occupation inflicts on a daily basis.
According to Haaretz reporter Gideon Alon, he Defense and Justice ministries have crafted "significant amendments in the 'intifada law,' and to add a retroactive paragraph. The purpose of the proposed amendment is to forbid damage claims for events that occurred after the outbreak of the intifada in September 2000, in any but exceptional cases."
Deputy Attorney General Sarit Dana mentioned in one of the meetings recently held on the subject by the Knesset Constitution Committee that "there is no need to elaborate on the fact that the situation in Israel changed in September 2000. Israel is dealing with a new conflict situation, with which it was not previously familiar. The general provision of the law is that a resident of a conflict zone does not have a right to compensation from Israel for an operation that was carried out by the security forces in the area."
"The Intifada Law," passed a Knesset reading in July by a 54-15 margin.
"The State of Israel will not put up with attempts to make it responsible for damage incurred by civilians during a military operation in a war zone" Knesset Constitution Committee Chairman Michael Eitan was reported as saying.
Not much has been heard about arguments against the "Intifada law," Haaretz reports: "Orna Cohen of Adalah, The Legal Center for Arab Minority Rights in Israel, and attorney Dan Yakir, the legal adviser of the Association for Civil Rights in Israel (ACRI), came out sharply against the amendment to the law. Cohen said that 'this bill severely violates constitutional rights that are anchored in Israeli law. It also violates Israel's commitments, and the instructions that apply according to international law. Article 4 of the International Convention on Civil and Political Rights states that even in a state of emergency, a country cannot discriminate. 'Attorney Yakir added that 'the proposed wording reflects the schizophrenia of the Justice Ministry. This is an unethical and illegal proposal, which is designed not only to block claims by Palestinians to receive compensation for damage caused to them, but also to leave the Israel Defense Forces without any monitoring of its activities."
As Human Rights Watch state in their recent report, "Promoting Impunity, The Israeli Military's Failure to Investigate Wrongdoing", "Pressure for a proper investigation rises every time a high-profile killing takes place, but Israeli authorities have taken no serious steps to improve the accountability of the armed forces, create an independent investigation system, or reform the military justice system."
According to the Israeli human rights organization B'Tselem, 3,265 Palestinians have been killed between the beginning of the intifada and the end of July 8, 2005, by Israeli soldiers. 652 of those have been minors.
According to Human Rights Watch, "The number of official investigations into alleged wrongful use of lethal force equals just two percent of the total number killed and only 15 percent of the number of children killed, despite the fact that many deaths occurred in non-combat circumstances and the extreme unlikelihood that many of the children killed were legitimate targets."
For Tom's killer to be sentenced, his family had to work diligently for two years through a tough, complex legal system. Palestinians don't have access to this system when it comes to fighting for justice against the tidal wave of abuses they are subjected to each and every day.