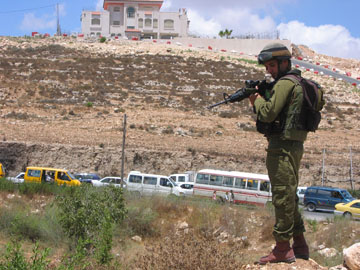 Soldiers set up a "flying checkpoint" outside Ramallah, near the village of Surda on Sunday.
By Sarita and Andrew
Ambulances, commerce, people traveling to work or heading home were all brought to a halt Sunday in Ramallah as Israeli soldiers closed all exit and entry points to the city following a shooting by Al Aqsa Martyrs' Brigade members in which a 10-year-old Israeli boy from the nearby Ateret settlement was injured.
As the boy lay in stable condition after being rushed to Hadassah Ein Kerem hospital in Jerusalem, two ambulances carrying sick Palestians to a nearby hospital were forced to sit for three and a half hours at a checkpoint in the West Bank village of Atara along with hundreds of other commuters. International Solidarity Movement volunteers went to monitor the checkpoints at Atara and Surda.
Flying Checkpoint in Surda
At approximately 10:30 this morning, the Israeli military closed the Atara checkpoint. A flying checkpoint was placed at Surda, 10km from Atara towards Ramallah. Ten ISM activists arrived at Surda Checkpoint around 1:00pm and began monitoring the Israeli soldiers blocking the road with 2 jeeps. The army was letting some cars as well as women, children and the elderly go through, but Palestinian men between the ages of 18-35 were being stopped and had to show their ID.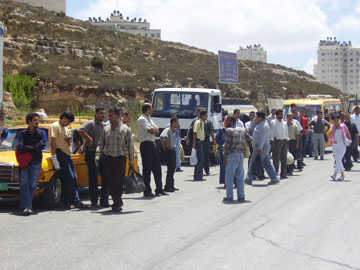 Surda Checkpoint
ISM divided into 2 groups, and sent one to monitor Atara Checkpoint with the 3 International Women's Peace Service (IWPS) activists and the other remained at Surda.
A soldier at the flying checkpoint approached the ISM activists, to explain (in the little english that he knew) that they were searching for the "terrorist" that had attacked and shot settlers near Jerusalem. He wanted to let the ISM volunteers through the checkpoint, but they explained that they had come to observe him and the army's actions, and that they wouldn't leave until the checkpoint was lifted.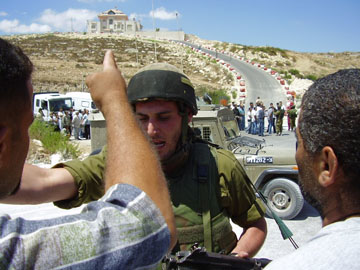 Surda checkpoint
During the time ISM was filming and taking photographs, movement through the checkpoint almost came to a complete halt as the soldiers tightened control. One soldier driving a jeep, aggressively raced up to a UN vehicle waiting in line as if he was going to smash into the car. He got out of the jeep, yelling and brandishing his M-16. He then took position in the middle of the road and began harassing the men waiting to have their IDs checked. The commanding army officer eventually ordered him to return to his jeep as media arrived on site.
A bus full of children between the ages of 4 and 12, who were travelling to Ramallah to present a theatre performance, were stopped for over 2 hours. Stefanie and Marie-Eve, ISM activists from France and Canada, managed to convince the commanding officer to let the bus through.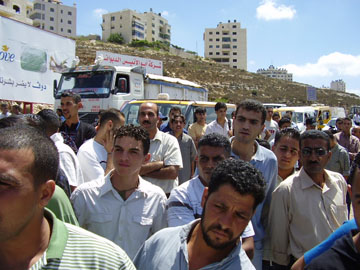 Surda Checkpoint
At around 2:00 p.m., the soldiers suddenly lifted the checkpoint and the army vehicles raced behind the hill. The hundreds of people and cars that had been waiting patiently flooded the road. The sounds of hurried movement filled the landscape and the trace of soldiers was erased by the loud honking and bustle.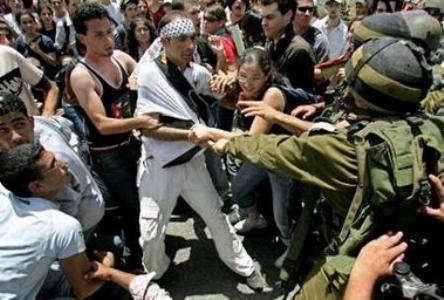 Atara checkpoint
Atara Checkpoint
As traffic flowed at a snail's pace at the temporary checkpoint in Surda, The permanent checkpoint at Atara was blocked for three and a half hours by soldiers in checkpoint structures, jeeps and sniper posts.
Members of IWPS and ISM attempted to talk to soldiers about the reason for the road closures and to seek permission for the ambulances carrying sick passengers to pass. Their requests were rebuffed. No arrests or vehicle checks were made at the roadblock. Soldiers were not searching anyone or allowing anyone to approach to ask them for information as to how long they should expect to wait.
As the group of international observers asked again if the roadblock would soon open, or if the ambulances could pass, the guards received instructions to allow traffic to move. Leaving a small contingent of soldiers at the posts in the permanent checkpoint, most of the soldiers promptly jumped into their jeeps and sped off. Nearly 200 vehicles, including a number of packed busses, had been detained under the hot sun for nearly four hours.
The inequity that Palestinians face when compared to the amount of security and safety Israelis are afforded is obvious in every facet of life in occupied Palestinian lands.
Settler attacks on Palestinian villagers often go unreported or investigated. While shooting at settlers can bring all of Ramallah to a halt, often there is little to no protection for the Palestinian population inside Israeli borders, in the West Bank or Gaza.
As Israeli and U.S. officials continually bombard Palestinian authorities to go after militant groups, little is being done to curtail attacks carried out by settlers. No security was in place to keep the 19-year-old settler off the bus in the middle of a Palestinian community inside Israel's borders where he killed 4 people and injured 12 others with an army issued rifle — in an act of what he considered to be in defense of the settlements. None of the settler-only roads that wind through Palestinian territories were closed off for hours after the incident.
In fact, Raanan Gissin, an adviser to Prime Minister Ariel Sharon, said the killing of Palestinian bus riders was an "isolated incident" that was "a far cry from when you have on occasion one or two isolated incidents of this sort than when you have a whole society which is beset by terrorists."
Also, none of the violence and human rights abuses against Palestinian civilians are taken into account.
According to weekly figures by the Palestinian Center For Human Rights, acts against Palestinian civilians have recently been on the rise. The organization reports that, between July 28 and August 3, Israeli forces sraeli Occupation Forces killed a Palestinian civilian in Shoufa village, south of Tulkarm. Ten Palestinian civilians were injured in attacks by militant settlers in that time. Add to that the amount of violent force used against peaceful demonstrations organized by Palestinian civilians, the economic ruin brought about during that time by the expansion of Israel's illegal annexation wall, and the notion of who actually is "beset by terrorists" should become more and more clear.
Statistics: www.pchrgaza.org
Background on speicific incidents: www.haaretzdaily.com