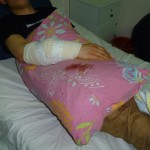 18th May 2013 | International Solidarity Movement, Team Nablus | 'Anabta, Occupied Palestine
UPDATED: Two brothers of the arrested Deiyaa' Nassar, cousins of the murdered Amer Nassar, were arrested last week Monday, May 13 past 2 am at night. Deiyaa' Nassar, 19, and Fadi Abu-'Asr continue to be held in Mejiddo Israeli prison as their trials continue to be rescheduled on each previous trial date.
Deiyaa's brothers, Bahaa, 20, and Baraa, 21, were arrested randomly; Bahaa is studying at university and Baraa is an artist in calligraphy who makes wooden plaques and ornaments with calligraphic Arabic text or Palestinian images.
Deiyaa, Bahaa, and … Continue reading